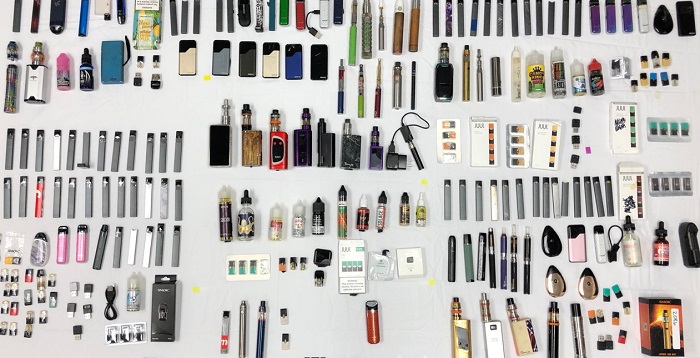 BY KARISSA MILLER
A couple months ago Iredell-Statesville Board of Education members questioned if district principals were doing enough to tackle the use of electronic cigarettes or vaping in the district's middle and high schools.
Vaping devices are increasingly showing up in school parking lots, bathrooms and buses, and teachers and administrators are scrambling to address the problem.
The board asked the staff what's being done and why aren't more kids getting caught.
Vaping, which was first marketed as an alternative to smoking, uses a battery-powered, pen-shaped device to heat everything from flavored nicotine to liquid THC to an aerosol that is then inhaled.
While the long-term effects are unknown, tobacco use studies indicate that one-third of deaths from coronary heart disease are attributable to smoking and secondhand smoke, according to a report to the U.S. Department of Health and Human Services.
In response to the board's concerns, I-SS Executive Director of Student Services Kelly Marcy presented the current policy and shared ways the district is trying to curb vaping at school.
"We recognize this is an epidemic across the nation and are committed to work towards healthier school communities," Marcy said.
"It's not 'Do you vape? It's what do you vape?'"
Marcy explained that the current Vaping Policy was developed during the last school year by a special committee made up of principals, assistant principals, Student Assistant Program coordinators, nurses, student service staff and a board member.
"We examined policies and programming from surrounding districts and also made use of the directive from the Department of Health and Human Services in our development of this policy," Marcy said.
This included making sure that the policies weren't punitive and offered some sort of educational component.
The district also looked into installing vape detectors in the restrooms, but Marcy said the cost was not an affordable option for the school system.
The middle and high school tobacco and vaping discipline plan makes possession of nicotine vaping devices an offense and sets consequences for students who violate the rule, including:
First Offense
● Three days of in-school suspension
● Mandatory Education (ASPIRE Program)
● Parent Conference with SAP/counselor and potentially include SRO as a resource to educate
● Loss of Privileges (loss of parking, after-school activities). Privileges will be lost until education, and a conference is completed
● Confiscate and destroy vape
Second Offense
●Three days of out-of-school suspension
● RJ Project – required for reentry – differentiate for age levels can make up your own
● Loss of Privileges – lunch detention Short term, loss of parking privilege, school events
● Quit education – "The Truth Initiative" with SAP
● Confiscate and destroy vape
Third Offense
● Five days out-of-school suspension
● Refer to SAP/Counselor for more intense quit strategies (Truth Initiative)
● Parent Conference
● Loss of Privileges (consider lunch detention, loss of parking, after-school activities)
● Above is required for reentry
● Confiscate and destroy vape
Board Feedback
School board member Bill Howell said he can attest to the fact that nicotine is a very addictive drug and said it took open heart surgery for him to quit.
He questioned if three days out of school suspension for the second offense was too harsh.
"They (principals) had piles of vapes in their drawers prior to this coming down," Marcy said.
She mentioned that the district's plan is a scaled-down version of Mooresville High's plan and that all principals reviewed and accepted the plan. Some principals wanted harsher consequences, she said, adding that many conversations and perspectives were considered before the policy was implemented.
"We will never 100 percent eliminate this because this is such a bigger level than us. But when we say it's not allowed in school — we need to say, 'It's not allowed in school because it's dangerous,' " Marcy said.
"There has to be consequences, and you have done a great job of putting something together to move us in the right direction," said board member Ken Poindexter.
Schools are working on educating the students and parents. The ASPIRE program is an alternative to out-of-school suspension. It's a free online tool that helps middle and high school teens learn about being tobacco free. It offers cessation support to any student who is ready to quit.
However, one challenge is that school officials are finding is that in some unique circumstances some of their parents have a different cultural view on tobacco and are allowing their child to vape.
BY THE NUMBERS
An estimated 4.1 million high school students and 1.2 million middle school students in the U.S. use electronic cigarettes, according to a federal tobacco survey.
The Centers for Disease Control and Prevention reported 2,561 cases of hospitalizations for lung injury involving e-cigarettes, and 55 deaths, as of December 27. The majority of cases are linked to products containing THC, the psychoactive ingredient in marijuana.
According to the N.C. Tobacco Prevention and Control Division of Public Health report, there were 12 schools across North Carolina surveyed and most school staff reported that E-cigarettes are somewhat or very:
♦ Problematic: 88 percent
♦ Harmful: 95 percent
♦ Contributory to learning disruptions: 84 percent
♦ High priority issue for school administrators: 90 percent
Catching students vaping can be challenging as vape devices are made to blend in with everyday items. The JUUL device, for example, resembles a flash drive. Vapes are easy to conceal and don't present a noticeable and strong smell.
Each pre-filled pod is equal to about one pack of cigarettes. Reviews of the product suggest about 200 puffs. The advertising and flavors entice youth to start using E-cigarettes; the nicotine hooks them.