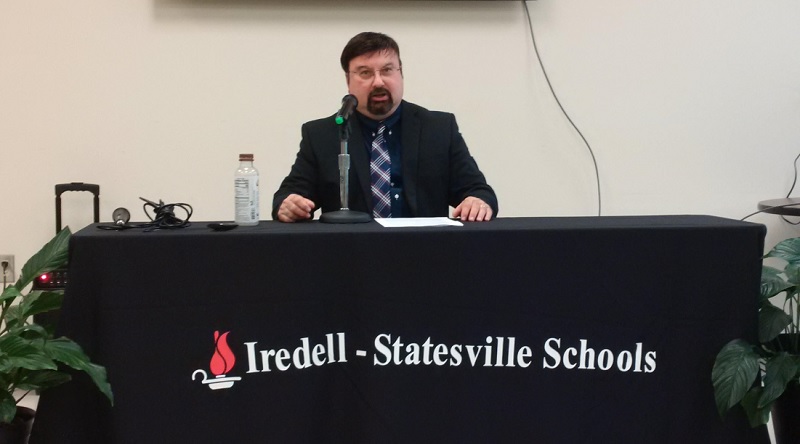 FROM STAFF REPORTS
The Iredell-Statesville Board of Education announced Friday afternoon that Stanly County Schools Superintendent Jeff James will be the district's next superintendent.
James, who previously worked for I-SS as a teacher, assistant principal and principal, is expected to begin his new position on July 1.
"I promise to always do what is best for the students in this community," James said after the announcement was made following an all-day school board meeting in Troutman.
James received a four-year contract with a starting salary of $162,000 and the use of a vehicle.
He will succeed Brady Johnson, who has spent his entire career working in public education in Iredell County, including the last 10-plus years as superintendent. Johnson, who was named N.C. Superintendent of the Year in 2014, was not offered a contract extension by the I-SS board.
The board conducted a nationwide search in house, received a dozen applications and interviewed four finalists for the position before deciding James was the best candidate for the position.
"We are proud of our selection and we think he is a good educator," Vice Chairman Chuck Gallyon said. "His story shows that the public system is still the backbone of our country."
James was hired as superintendent in Stanly County in March of 2018, after spending five years as an assistant superintendent with Montgomery County Schools.
He worked in the private sector for two decades before accepting his first job in public education as a teacher at Statesville High School in 2002. He also taught at Lake Norman High School before being promoted to administrative positions at South Iredell High School and Troutman Middle School.
During James' tenure at Troutman Middle School, the school was named an N.C. School of Distinction multiple times and was recognized by the N.C. Department of Public Instruction as one of the "Top 25 Most Improved Schools" in the state.
James earned an MBA (1992) and M.A. in Special Education (2005) from the University of North Carolina at Charlotte, an MSA in School Administration from Gardner-Webb University (2008), and his EdD in Educational Leadership and Cultural Foundations (2013) from the University of North Carolina at Greensboro. He earned his Superintendent's License from Appalachian State University in 2009.