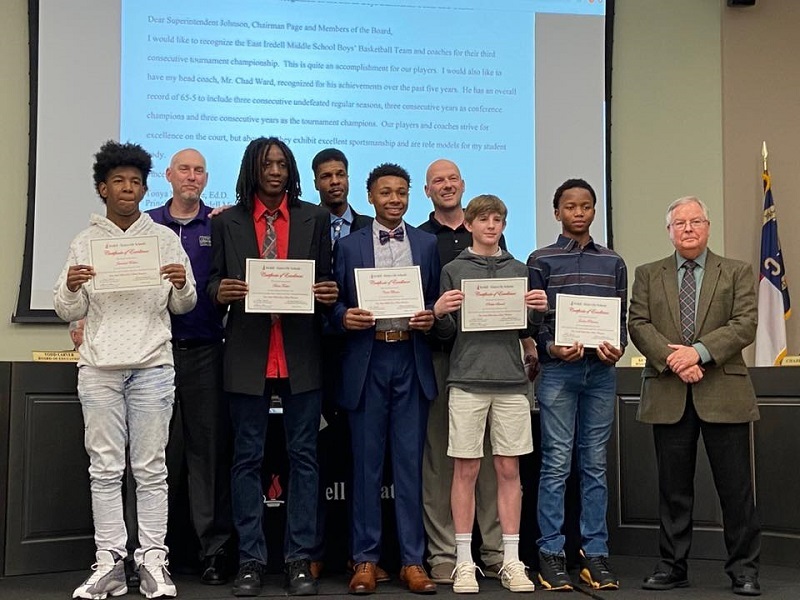 BY KARISSA MILLER
The Iredell-Statesville Board of Education, along with East Iredell Middle School Principal Tonya Houpe, recognized the boys basketball team and coach for their third consecutive tournament championship on Monday evening.
Houpe said she's proud of what they've accomplished.
"Our players and coaches strive for excellence on the court, but above all they exhibit excellent sportsmanship and are role models for my student body," Houpe said.
She also thanked the team's head coach, Chad Ward, for his work and achievements over the past five years. Ward has had an overall record of 65-5, which includes three consecutive undefeated regular seasons, three consecutive years as conference champions and three consecutive years as the tournament champions.
OTHER BUSINESS
In other business, the board unanimously adopted several policies. Some of these policies were recommended by the N.C. School Board Association and others include updates in references and language.
Policies of notable interest included:
♦ #7240: Drug and Free Alcohol Workplace – The policy addresses THC-containing and mood-altering substances; and it will add a clause regarding the associated risks with the use of CBD.
♦ #4334/5035/7345: Use of Unmanned Aircraft – This is an optional new policy authorizing the use of drones on school property and at school sponsored events under certain conditions. The drone must weigh less than 55 pounds and it must be for recreational purposes.
♦ #5071/7351: Electronically Stored Information Retention — School business-related Electronically Sent Information (ESI) sent and/or received by an employee using a personal technology device or account is subject to this policy. Additionally, all emails produced and received using the school system email system are the property of the school system and will automatically be retained by the school system for a minimum of three years.
♦ #46420: Contracts with the Boards — Any contract for materials, equipment or services involving expenditures in excess of $90,000 must be reviewed by the board attorney and approved in advance by the board unless provided otherwise in board policy. (Approval for construction and repair are established under a separate policy).
♦ #7360/8225: Crowdfunding on Behalf of the school system – It doesn't prohibit crowdfunding of any teachers, but they must get permission from their principal.