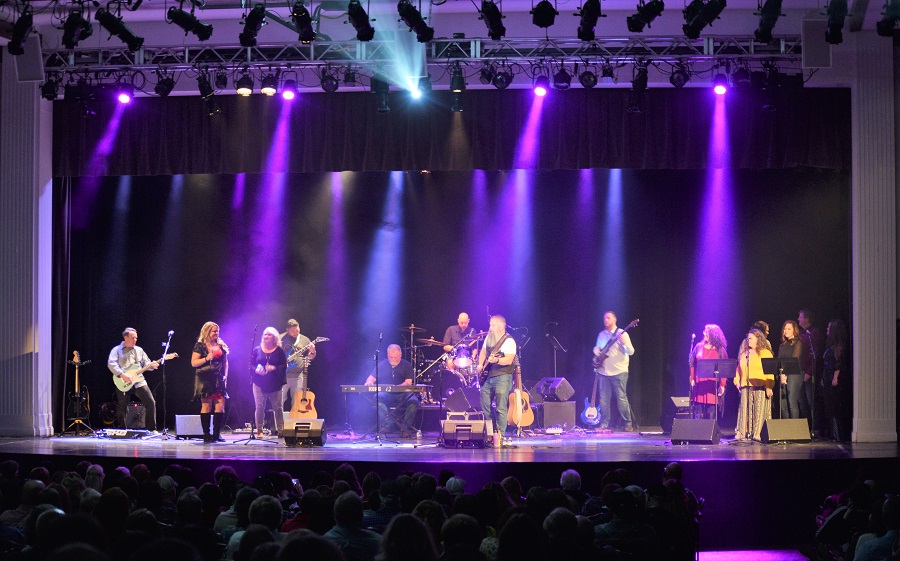 Special to Iredell Free News
Approximately 450 concert-goers packed Mac Gray Auditorium on the campus of Statesville High School to attend the first annual Educators With a Cause (EWAC) Concert on Saturday evening. Made up of 15 educators from the Iredell-Statesville School District, the EWAC Band is a group of teachers, administrators, bus drivers and teacher assistants.
For over two hours they entertained the crowd with covers of everything from the Allman Brothers to Justin Timberlake.
The idea for the EWAC concert was devised by David Edwards, who came on board as the executive director of technology and media Services in March of 2019. He shared with Superintendent Brady Johnson his idea of holding a concert for the community that would highlight the vast talent of I-SS employees.
The superintendent loved the idea, and the group began practicing in October. Over the span of four months the group gathered in Mac Gray Auditorium after work to put together a show that would include multiple genres of music.
After garnering a sponsorship from Randy Marion Automotive Group, the group made $5,000 in ticket sales. That money will be contributed to the Iredell-Statesville Schools Educational Foundation.
"One of our primary goals in promoting the I-SS Education Foundation and the 1991 Club is to build a group of community members and alumni that have a genuine love and respect for public schools in Iredell County," explained I-SS Director of Communication and Development Boen Nutting. "It is so important to build a network of individuals that realize the importance of a vibrant educational system to a community."
"While we are happy that we raised funds to support the Iredell-Statesville Schools Educational Foundation, we are most thrilled with how the event brought our employees and the community together. We are over 2,700 employees strong. Our employees not only work tirelessly to educate the students of Iredell County, they enrich our county beyond measure with their time and talents in a variety of ways. It was a thrill to see educators come together and share their musical talent."
Invested by the Foundation for the Carolinas, the I-SS Education Foundation fund was established in 1991, during the same year that the Statesville City Schools and Iredell County Schools merged. The endowment was established through a gift from Chester and Maxine Middlesworth with the goal of benefiting public education in schools across the Iredell-Statesville School District. The Foundation will be managed by the trustees of the 1991 Club, a group of community members and I-SS alumni.
EWAC Participants
♦ Andrea Galliher – Admin Support, AIG
♦ Tennille Sherill – High School Guidance Counselor, ASEC
♦ Kelly Owen Buchauer – Middle School Teacher, Language Arts, North Iredell Middle
♦ Windy Atkins – Middle School Teacher, Language Arts, North Iredell Middle
♦ Bobby Grace – High School Science, South Iredell High
♦ Bob Kozyra – Middle School Teacher, PE/Heath, Athletic Director – Mt. Mourne IB
♦ Dylan Stobbe – Tech II, ADR
♦ Sherrard Martin – Director, Curriculum Support, ADR
♦ Laura Elliott – Director, Testing/Accountability, ADR
♦ Angela Blankenship – Teacher Assistant/Bus Driver, Harmony Elementary
♦ Brent Mason – Bus Driver, North Middle and North Iredell High
♦ Mike Williams – High School Social Studies, Crossroads Arts and Sciences Early College
♦ Dave Edwards – Executive Director, Technology & Media Services, ADR
♦ Tracy Skeens – CTE Teacher, Crossroads Arts and Sciences Early College
♦ Cheryl Fuller – Second Grade Teacher, Scotts Elementary