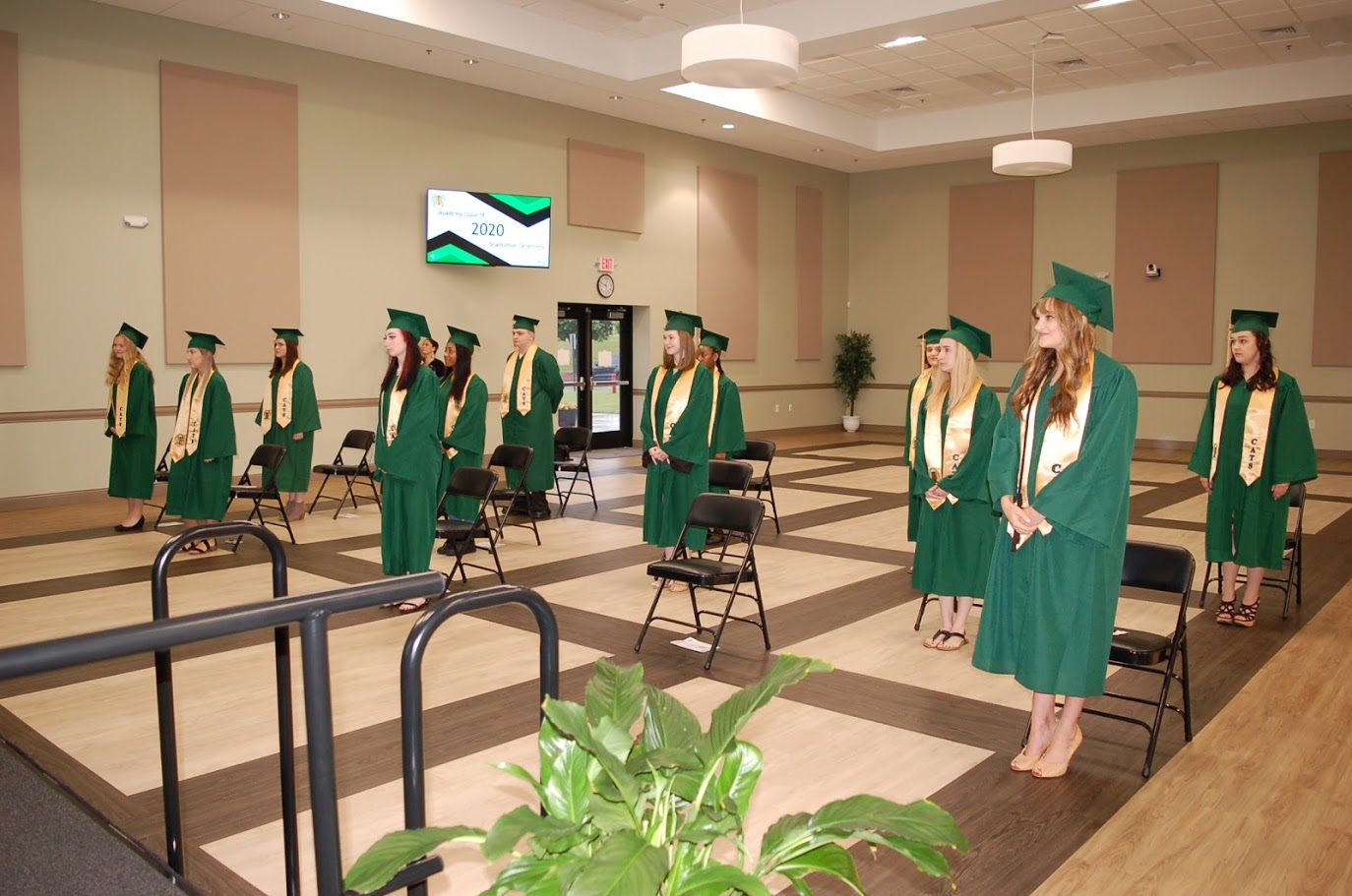 BY DEBBIE PAGE
debbiepage.iredellfreenews@gmail.com
Thirteen students from the Career Academy and Technical School's iAcademy received their diplomas at a socially distanced ceremony on Thursday morning.
Parents, who were the only guests allowed, watched the graduation exercises through a live feed in classrooms adjacent to the conference room, entering the ceremony only briefly to see their child receive a diploma and take a quick picture.
After the dignified processional and Pledge of Allegiance, graduate Ellie Nichole Childress welcomed her fellow virtual students, many of whom had never met until that morning, to a ceremony much different than they had expected.
"This school has provided each of us a very unique education, tailored to our individual needs. We all value education, but completing the high school journey has looked very different for each of us."
"iAcademy students are grateful to have found a place that has allowed us to challenge not only our academic abilities but our time management skills and independence too."
The iAcademy started eight years ago.
In his remarks, Iredell-Statesville Schools Superintendent Brady Johnson told students that "you are t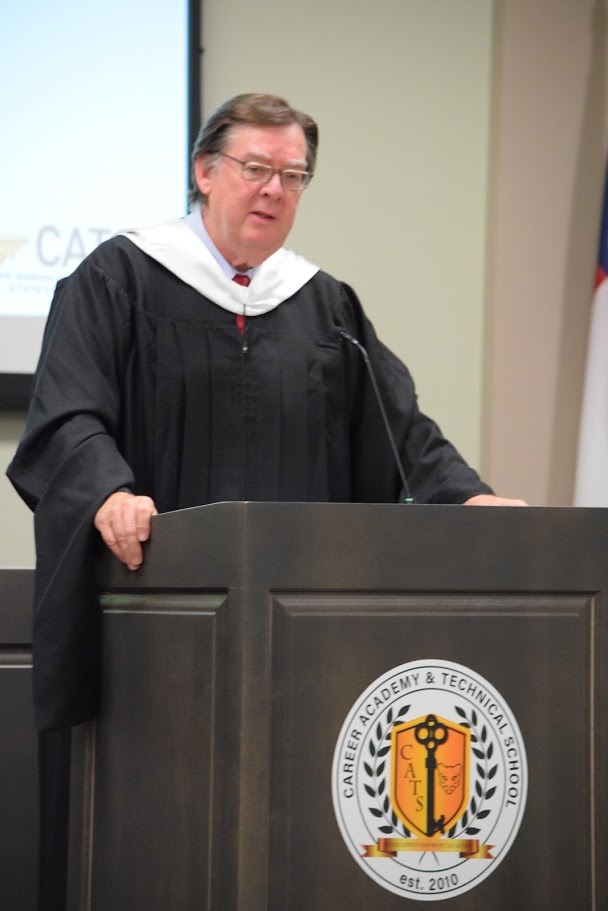 he most unique high school in our school system and across North Carolina."
"You guys are trailblazers. You are innovators. You are risk-takers, and I admire those qualities in anyone. You did not take the traditional path to getting a high school diploma. That sets you apart and makes you very special."
Johnson noted that their remote virtual learning experience became the norm for all students over the past few months and congratulated I-SS employees for being trailblazers in this new normal.
Asking students to ponder what "success" truly means, Johnson quoted Ralph Waldo Emerson's "What is Success?" which encourages people to "laugh often and much," to win respect and affection, to appreciate honest criticism and the beauty around them, to leave the world a "bit better," and to "know even one life has breathed/ easier because you have lived; /This is to have succeeded."
He also urged students to read Psalm 1 before going bed that night as they embark on the next phase of their lives.
"There are only two kinds of people on this earth: the righteous and the unrighteous, the positive and the negative, those that do good deeds and those that work to undo good deeds."
"The powerful part of the passage is that you get to pick which one of those two people you will become."
Honor speaker Abigail Estelle Harrison explained the ceremony was not how any of the students expected their graduation to go — sitting six feet apart and with their parents in a nearby classroom. She admitted to being angry, anxious, and aggravated at times over the past few months, but Harrison urged her fellow graduates not to let those types of emotions dominate the celebration of their achievements.
"At the end of the day, we still did it!"
This extraordinary situation has taught students an important life lesson, added Harrison.
"Do not let circumstances define your joy. There will be many, many situations in life that are unfair, overwhelmingly frustrating, and completely out of our control. This is life, guys."
"But the way we choose to respond makes all the difference."
"While it is incredibly easy to get caught up in the chaos of our world right now, I encourage you to smile."
Harrison expressed appreciation to the CATS staff and parents for working so hard to make the ceremony special under difficult circumstances.
Honor speaker Madelyn Paige Russell noted that as they were born, the world was adjusting to a changed world after the 9/11 attacks. As they graduate, they are facing a world in turmoil because of the COVID-19 pandemic.
"It seems the motto for our generation is to adapt and persevere. For me, adapting and persevering is part of everyday life."
After Russell was diagnosed with autism at age 3, her parents were told she would never speak and would require life-long care. With prayer and and hard work, Russell said she "overcame many challenges, so I really mean it when I say it is a privilege to speak to you today."
Russell thanked Principal Larry Rogers and the staff for preparing her and iAcademy students for college, work, and adulthood in "a safe, peaceful, quality environment. Unlike traditional high school, the smaller school setting here at CATS provides a quality education that allows hands-on learning."
After bestowing diplomas, Rogers congratulated graduates and their families for reaching this special milestone in spite of the uncertainties society is currently facing.
"You will be able to say, during a national crisis, a financial shutdown, record-setting unemployment in our country, and a global pandemic, you were able to earn your diploma."
"Your challenge, as the next group of leaders, is to find your way in a world that is still battling many inequities and social issues that plague our nation. You are charged with finding solutions to make our world safer, cleaner, and powerful. Have faith in your abilities.
"I challenge you to believe in yourselves and begin today to take action. Don't let fear or insecurity stop you from trying new things. Believe in yourself and the rest will fall into place. Work hard, and there is nothing you cannot accomplish."
"Do what you love, and be kind to others to make this world a better place," Rogers concluded.
Counselor Sonja Lewis recongized students who earned special honors designations, including cum laude (3.7-3.99 G.P.A.) graduates Christa Rose Burden, Victoria Grace Dodge, and Pierre Alexander Valentine (in absentia); magna cum laude (4.0 – 4.49 G.P.A.) graduates Meredith Ashley Jordan and Tanea Jenese Spruill: and summa cum laude (4.50 up) graduates Abigail Estelle Harrison and Erin Alexandra Sipes (in absentia).
Other graduates who received diplomas at the ceremony included Rachel Mackenzie Hanley, Jordan Madison Holbrook, Ja'Maury Nicole Little, Olivia Renee Peeney, Nikkole René Royall, and Travis Junior Wright.
Other students graduating in absentia include Jewell Hope Alleman, Spencer Reed Evans, Hudson Blake Popp, Levi Lael Stephens, Emily Kathleen Yodis, and Catherine Allyson Young.
Soloist Taylor Lord, an iAcademy graduate, sang a soaring rendition of "My Way" to honor graduates.
Photo Gallery