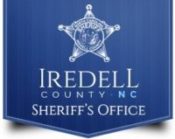 Sheriff: Person of interest in case previously worked for ICSO as a detention officer
FROM STAFF REPORTS
The Iredell County Sheriff's Office and N.C. State Bureau of Investigation are investigating the shooting death of a man in a field in Union Grove.
ICSO deputies responded to a location off Toby's Footlog Drive about 7:09 a.m. on Monday after receiving 911 calls about a shooting, Sheriff Darren Campbell said in a news release Tuesday. One of the callers claimed responsibility for the shooting, according to Campbell.
When deputies arrived on scene, they located found the body of 46-year-old Baron Thomas Cass in a field, according to the news release.
The deputies located three witnesses, who told them the man who fired the shot was in a still in the area. The deputies went to a residence near the location and met with a man who made statements about firing a gun, Campbell said.
The scene was secured, and ICSO criminal investigators and crime scene investigators responded.
It was quickly determined the person involved in the shooting was as a former non-sworn detention officer at the ICSO who left employment with the agency in 2006, Campbell said.
Due to the previous employment of the person involved, the SBI was asked to assist in a joint investigation, Campbell said.
Witnesses were interviewed by criminal investigators and special agents on scene. The witnesses made statements about a physical altercation between the victim and the man in the field prior to the shooting, according to the news release.
The crime scene was processed, and evidence were collected. A search warrant for the residence of the person who fired the shot was obtained and executed, leading to the recovery of additional evidence, Campbell said.
The items of evidence will be submitted to crime laboratories for processing. An autopsy is planned for this week, the sheriff said.
The names of witnesses and the person of interest are not being released as the investigation is still ongoing, Campbell said. All information and lab results received as a part of this investigation will be submitted to the District Attorney's Office.