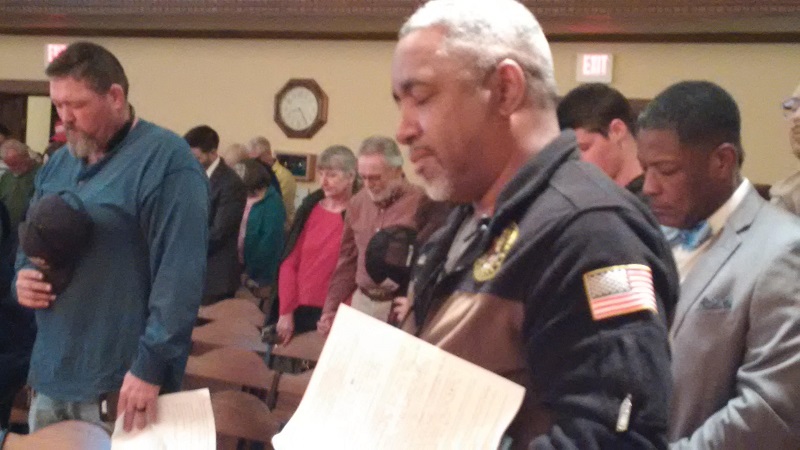 BY KARISSA MILLER
The Iredell County Board of Commissioners unanimously approved a resolution on Tuesday declaring Iredell a "constitutional rights protection county."
Around 75 people attended Tuesday's meeting, many of whom came expressly to speak in support of the resolution during a public hearing devoted to the matter.
Several spoke of the communities across the nation that are still healing from the horrors of gun violence in schools, churches and other public venues.
N.C. Rep. Jeff McNeely, a former county commissioner serving his first term in Raleigh, said a flurry of gun-control bills were filed following the most recent mass shooting in Texas.
"We are going to fight to make sure you keep your freedoms, but we are two," McNeely said, referencing himself and N.C. Sen. Vickie Sawyer.
McNeely told the crowd that they also need to be concerned about their First Amendment freedoms. He asked the crowd to stand with him as he offered a prayer in which he called the United States the greatest nation and one that he still believes is a Christian nation.
The crowd responded with a roaring "Amen" and applause.
While addressing the board, Richard Renegar recalled the time when he was in high school and many students carried guns to school.
"What's changed is we've took God out of school," Renegar argued, adding it's a message that students need to hear.
Sheriff Darren Campbell, who worked with commissioners on the adopted resolution, also addressed the commissioners and crowd during Tuesday's public hearing.
"I cannot stress enough the importance of taking a stance together, and firmly stating to the citizens of Iredell County," Campbell said, "our resolve to protect the Second Amendment constitutional right of the people to keep and bear arms."
"This stance is consistent with the framers of the Constitution, as they made their intent clear that 'The right of the people to keep and bear arms shall not be infringed,' " he added.
The event marked the second time Campbell has advocated for protecting the Second Amendment rights of citizens. The sheriff said he's been overwhelmed by positive feedback from residents after he asked the commissioners to consider adopting a resolution last month.
Campbell used the platform Tuesday to reassure the public that he will fight for their rights.
"This is a historic day as we take a stance to ensure the integrity of the Second Amendment remains intact, as the framers intended centuries ago," he said. "Attacks are being made on the Constitution, and I am here to let everyone know that this is not a battle I will back down from."
Commissioner Ken Robertson, from the board dais, shared a different type of message Tuesday, emphasizing the need for conservative leaders to "fix where our country and our state is broken."
Robertson pointed out that the Board of Commissioners is an all-Republican body. He specifically criticized Republicans for not offering a solution to address mass shootings and gun violence.
Democrats have a solution, he said, and until conservatives offer a better alternative the Second Amendment will remain in jeopardy.
Robertson, who made addressing gun violence a point in his presentation, stressed that Republicans who are fiscally conservative should support spending money on jails to house criminals and back calls to expand the number of beds in mental health facilities.
He pointed out that Iredell County is doing just that by spending nearly $30 million on a jail expansion to add room for nearly 300 inmates.
The resolution adopted Tuesday, Robertson told the crowd, is merely a symbolic gesture.
"This doesn't change a thing other than show solidarity," he said.
He encouraged citizens to get involved and reminded them that who they vote for matters.
There was not universal praise for the board's action.
"I've never seen so much partisanship coming from commissioners," Todd Scott said.
Partisan politics keeps people divided, he explained. While he's for protecting gun rights, Scott doesn't believe a resolution is an appropriate measure as "it scares people into buying more guns."
"Who's going to come to your house and take your guns?" he asked.
Meanwhile, Mark Cash criticized the commissioners for not declaring Iredell County a Second Amendment Sanctuary County, implying the board did not having the backbone to make a stand solely on gun ownership rights as other commissioners in North Carolina have done.