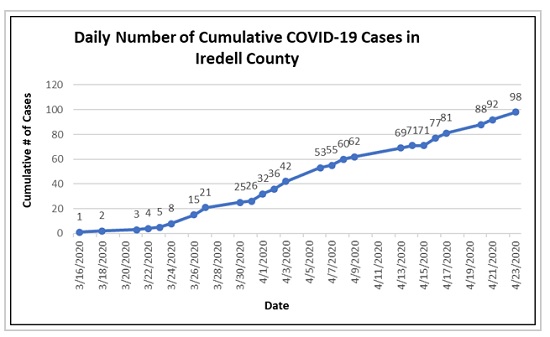 FROM STAFF REPORTS
Health officials reported the fourth COVID-19 related death in Iredell County on Thursday afternoon as the overall count increased to 98.
"The individual had underlying health conditions and died from complications associated with the novel strain of coronavirus, COVID-19," according to an Iredell County Health Department news release.
In order to protect the families' privacy, no further information about this individual will be released.
Among the 98 individuals who have tested positive for COVID-19:
♦ 36 patients are in isolation at home;
♦ 53 patients are considered cured;
♦ 5 patients are hospitalized; and
♦ 4 patients have died
Health Department Provides Additional Data Related to COVID-19
The Iredell County Health Department continues to closely monitor the spread of COVID-19 in the community, reporting each day on the total death and case numbers. The related demographic profiles of cases and general geographical location are also reported.
The continued growth of Iredell County's case count has led to some inquiry about the number of those who have recovered from the illness. Reporting the number of cases that appear to have recovered is a complicated process. Some infected people will have mild symptoms and others find themselves with more severe symptoms. People have varying experiences on how the virus runs its course, making reporting the number of those who have appeared to have recovered a complicated process.
Scientists are still looking at how a person responds to COVID-19 and what "full recovery" really means. "Full recovery" looks different for everyone and cannot truly be defined or measured at this time.
Local health officials continue to contact and monitor all persons who test positive for COVID-19. These individuals are isolating at home for at least seven-days since symptom onset and for at least 72 hours after symptom resolution (absence of fever without the use of fever-reducing medication and improvement in respiratory symptoms).
In addition, information about close contacts (person who have been within 6 feet of the sick person for more than 10 minutes) is gathered. Close contacts are notified and expected to quarantine themselves at home for 14 days. This important work is being done by public health nurses and other public health staff.
People who think they have COVID-19 with mild symptoms such as fever and cough without shortness of breath or difficulty breathing are encouraged to isolate themselves at home, separate themselves from others within the household as much as possible, and call their medical provider for advice.
It is extremely important for people at higher risk of getting sick with COVID-19 to call their medical provider if they develop symptoms of fever or cough. High-risk individuals include:
♦ Are 65 years or older;
♦ Live in a nursing home or long-term care facility;
♦ Have compromised immune systems;
♦ Severe obesity-body mass index of 40 or higher;
♦ Other underlying medical conditions, particularly if not well controlled, such as diabetes, renal failure or liver disease; and
♦ People who are pregnant should be monitored since they are known to be at risk for severe viral illnesses.
In addition to providing information related to COVID-19 recovery data, the Iredell County Health Department has updated the case county map to separate portions of the 28625 zip code and utilize the geographical boundary of interstate 40. The North region is now the area north of Interstate 40, while the Central region is the area south of Interstate 40.
Geographic Dispersal of Confirmed COVID-19 Cases in Iredell