The Health System plans to vaccinate 400 healthcare workers by Christmas
Special to Iredell Free News
Iredell Health System kicked off its COVID-19 vaccinations on Thursday, becoming the first organization in Iredell County to administer the vaccine.
Twenty-five individuals from various areas of Iredell Memorial Hospital, including Critical Care, the Emergency Department, Respiratory Therapy, and several other nursing units where COVID-19 patients routinely receive care, were inoculated.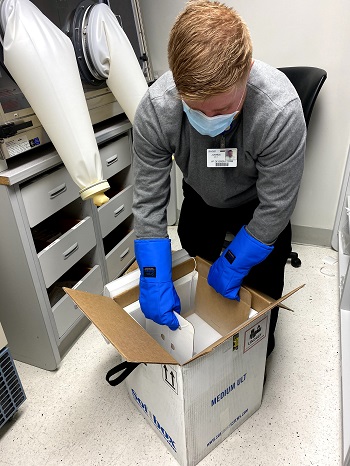 "It's a great day in healthcare," said Dr. Joseph Mazzola, Vice President of Medical Affairs for Iredell Health System. "We've been anticipating this vaccine for a long time, and we're excited to be part of this historic effort to stop the spread of this deadly virus."
Over the course of the next two weeks, the Health System plans to use all 975 doses of the Pfizer COVID-19 vaccine that it received Thursday, focusing first on individuals working in high-risk areas, as well as healthcare providers from other local organizations who work with patients at the System's flagship campus, Iredell Memorial Hospital. More than 400 employees and providers will be vaccinated before the Christmas holiday.
A vaccine workgroup at the Health System has been planning the logistics of vaccine administration for more than a month in the hopes that it would be selected to receive the vaccine once an Emergency Use Authorization was granted by the FDA. Those hopes became reality early last week when the Health System was notified it would be among just 53 organizations in the State of North Carolina to receive the Pfizer vaccine first.
Cheers erupted when the specialized shipping container with the vaccine arrived at the hospital this morning.
Dr. Vijay Nagpal, medical director of Iredell Memorial's Emergency Department, was the first person in Iredell County to be vaccinated.
"It's amazing that in less than a year, we were able to have the entire scientific community come together to create something that can alter the course of this pandemic," Nagpal said. "Hearing the success of the vaccine, it's pretty incredible. It's a miracle."
That was the general sentiment among the entire group vaccinated on Thursday.
"We have to do something. If we don't, things are never going to change," said Rhonda Ruppe, Emergency Department director. "I'm excited to think this will soon come to an end if we all join together and get vaccinated."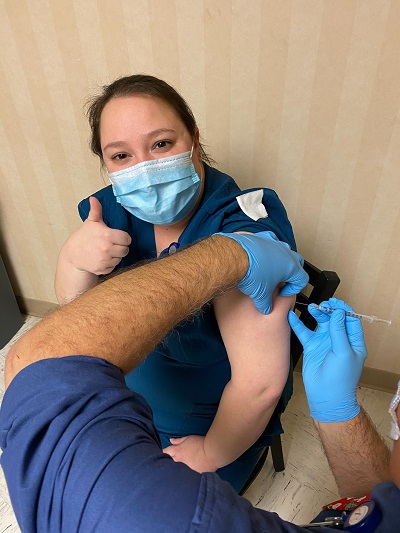 "This is potentially the beginning of the end," said Kellie Roten, assistant nursing director for the hospital's 5 North unit, where many COVID-19 patients are treated. "I'm ready to help hopefully prevent this disease from wreaking havoc with families and our community. I've seen so much guilt and anger and sadness since March, and I'm excited we'll be able to offer this as protection."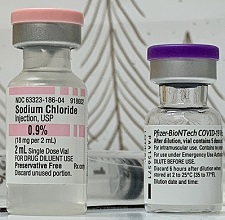 "If anything can stop this tragedy from happening, we should do whatever we can – we all need to do our part," added Ashley Reiman, a critical care nurse at Iredell for more than five years who has witnessed the serious, deadly nature of COVID-19 firsthand. "This is so devastating and tragic."
For Dr. Jose Perez, a pulmonary critical care specialist, a vaccine means healthcare providers can be more confident in their own safety as they do what they do best.
"When we signed up to be physicians and healthcare providers, we did it because we have a passion to help people," he said. "We put our lives at risk, but we do it because we're called to do it. The vaccine means some fear that we've had these past months will dissipate, and as a result we will be able to take better care of our patients. It's hard to work in fear."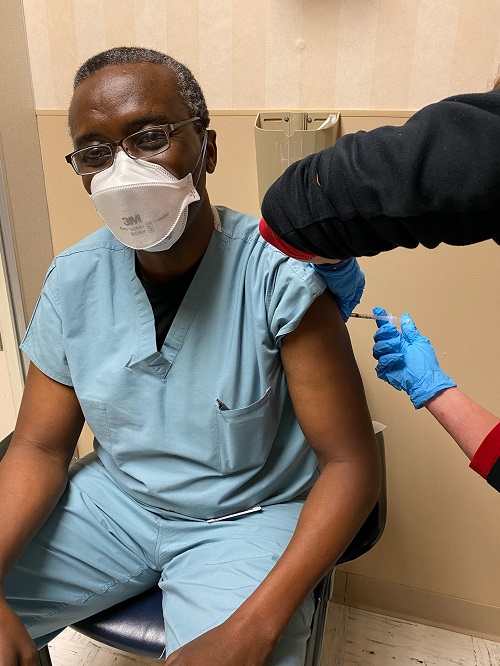 Dr. Robert Aryeetey, an infectious disease specialist who has been on the frontlines of the COVID-19 pandemic at all three hospitals in Iredell County, was also vaccinated Thursday.
But he stressed that a vaccine doesn't mean letting your guard down.
"It's been a long 10 months," Aryeetey said. "This is a good opportunity and will be one of our tools to work with, along with continuing to maintain our distance, wearing a mask, and washing your hands."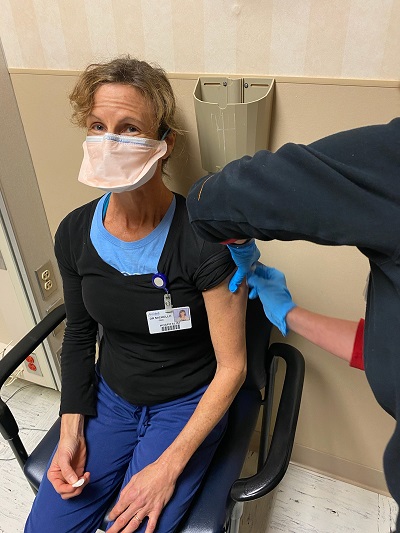 Dr. Michelle Ong, a hospitalist at Iredell Memorial, agrees.
"Keep wearing your masks," she said after she received her vaccine, adding that she had done a lot of research before getting vaccinated and was completely confident getting it. "I couldn't get it fast enough. There are a lot of myths out there, but the risks of COVID infection are so much worse than any risks of a vaccine."
The Pfizer vaccine requires two doses, given three weeks apart.
"We're very proud to have been chosen in the first phase of the vaccination process," said John Green, president and CEO of Iredell Health System. "This will help lead our community to improved health. We look forward to continuing to distribute the vaccine."
About Iredell Health System
Iredell Health System includes Iredell Memorial Hospital; Iredell Home Health; Iredell Wound Care & Hyperbaric Center; Community and Corporate Wellness; Occupational Medicine; the Iredell Physician Network and more. Iredell Memorial Hospital is the largest and only nonprofit hospital in Iredell County. The comprehensive healthcare facility has 247 beds; more than 1,700 employees; and has 260 physicians representing various specialties. Centers of excellence include Women's and Children's; Cardiovascular; Cancer; Surgical Services and Wellness & Prevention. The mission of Iredell Health System is to inspire wellbeing. For a comprehensive list of services and programs, visit www.iredellhealth.org.