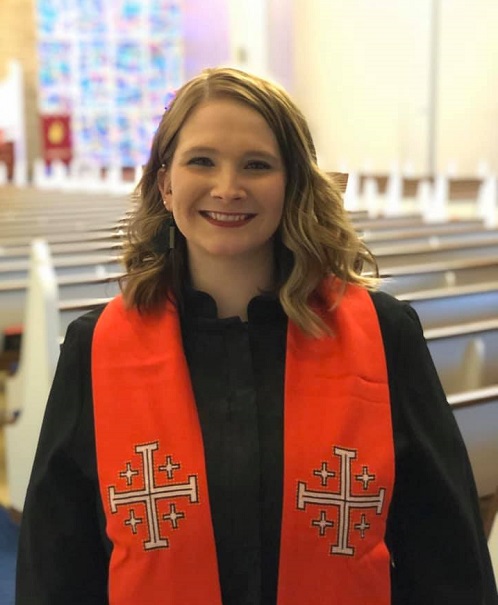 'Even on the hard days, I know this is exactly what I'm meant to be doing."
Special to Iredell Free News
The COVID-19 pandemic has shown, as much as anything, the importance of the spiritual health of patients and their families and the value of a chaplain's calm reassurance.
For Iredell Health System Director of Pastoral Care Allison "Bubba" Simmons, the pandemic has presented new difficulties. While some of her responsibilities, such as handling advanced directives, have remained the same, other aspects of her position have changed.
Much of Simmons' role includes spending time with patients during times of grief after they've been told terrible news. Sometimes it includes holding the hand of someone as they pass or hugging someone whose child has been hurt. She works closely with palliative care, journeying alongside patients and their families as they navigate their stories and plan of care.
Simmons was part of a larger chaplaincy program during her residency at a hospital in Spartanburg, S.C. But as Iredell Memorial's lone chaplain, she sees the community hospital's patients more often, builds closer bonds, and becomes a more significant part of patients' experiences. She talks with people in a wide array of situations – from someone joyous after learning they don't have cancer to someone who just lost a loved one – and the landscape has become more volatile in the midst of a fluctuating disease.
Before the COVID-19 pandemic, Simmons did not fear going into any patient's room without knowing what she would encounter or what the story would hold.
"That was part of the excitement of the job," she said.
COVID-19 has changed things. Simmons admits that wearing gloves in patient rooms and refraining from shaking hands or patting shoulders can alter the connection she has with patients. Meanwhile, as physical contact in her position has dwindled, the cases of grief have increased.
Some ask why God let an event occur or where God is in their life. Some even express anger toward God.
Simmons also has to think about personal protective equipment (PPE) resources when needing to see a patient with COVID-19, and consider whether she can provide the same level of pastoral care by making a phone call instead of entering a patient's room.
Simmons is also there for nurses and staff under high stress. A difficult work situation would not typically follow staff members home. But there is no escaping the coronavirus – staff need to wear masks everywhere they go, hear it talked about constantly, and see mentions of it across social media and on the news.
"Their anxiety and stress levels are very high. My goal is to be a listening ear and be a safe place where they can just be themselves," Simmons said.
Simmons can only be in so many places at once though, so when the hospital was not allowing visitors earlier in the pandemic, medical providers and other staff became the sole support person for many patients, an exhausting task they weren't accustomed to.
"They do a great job," Simmons said. "Their level of love and care has gone above and beyond what I thought humanity was capable of. They have shown up in awesome ways and provided more care than I could have ever dreamed of. I try to support them as best I can."
For many patients who are now only able to visit with their spiritual advisor or pastor virtually, Simmons has become a central person in their spiritual journey. She builds relationships with many of those pastors, trying to offer their patients individualized care. And, she knows that with the ever-changing pandemic climate, she may remain the sole spiritual leader at Iredell for the unforeseen future.
"Whether things go back to 'normal' or not, I have learned to live in the now and not stress about what will happen 10 weeks or 10 years from now," she said. "I just have to look for the rays of sunshine or the hope in these moments."
Simmons understands the need to take care of herself without assuming too much responsibility. She provides people with necessary resources such as employee assistance programs, online grief groups, or other support groups.
Simmons bases a large part of her spiritual care on a method of communication formed by Israeli philosopher Martin Buber, letting patients lead conversations while going through a journey with them, wherever that may lead. Her goal each day is to have a connection with a patient that goes beyond the here and goes into sacred ground where those involved can feel God's presence.
"In those conversations with patients, I have those I-Thou moments or I-God moments where the ground between us and the conversation we're having has hit some holy ground," she described.
"Then, however I can support people, I let God be a part of that. I try to get out of the way and let God do God's thing."
Simmons takes an interdisciplinary team approach with providers, nurses, and other team members by offering a different perspective on what may be playing a factor in a patient's overall health. While Iredell Memorial celebrated Spiritual Care Week last week, it recognizes the pivotal role she plays in providing collaborative healthcare. For many patients who receive optimal care at the hospital, a chaplain like Simmons completes the picture.
"When you look at the whole person, the spiritual aspect starts pulling stuff together. I do a lot of work with physicians and staff listening to their stories about the patient and their interactions with them."
During spiritual conversations with those who are not religious, Simmons helps patients tap into their own form of spirituality and use it to support their health. While her communication with patients often includes verbal conversation, it can also include sitting in silence with those in crisis. She has built friendships with many patients at Iredell's Hospital-Based Skilled Nursing Facility, some of whom have pictures of her baby boy on their wall. She reads the obituaries each day to see if anyone she knows has passed away.
As her ministry continues, Simmons knows she's in the right place doing what she has been called to do.
"I always tell people this is a great balance between church and healthcare because my staff feel like my church and the patients my clients on the healthcare side of things. So it's a good balance for me, as this is my family."
Her purpose with Iredell has become more manifest to her during the pandemic.
"This is exactly where I'm supposed to be. Even on the hard days, I know this is exactly what I'm meant to be doing."
About Iredell Health System
Iredell Health System includes Iredell Memorial Hospital; Iredell Home Health; Iredell Wound Care & Hyperbaric Center; Community and Corporate Wellness; Occupational Medicine; the Iredell Physician Network and more. Iredell Memorial Hospital is the largest and only nonprofit hospital in Iredell County. The comprehensive healthcare facility has 247 beds; more than 1,700 employees; and has 260 physicians representing various specialties. Centers of excellence include Women's and Children's; Cardiovascular; Cancer; Surgical Services and Wellness & Prevention. The mission of Iredell Health System is to inspire wellbeing. For a comprehensive list of services and programs, visit www.iredellhealth.org.