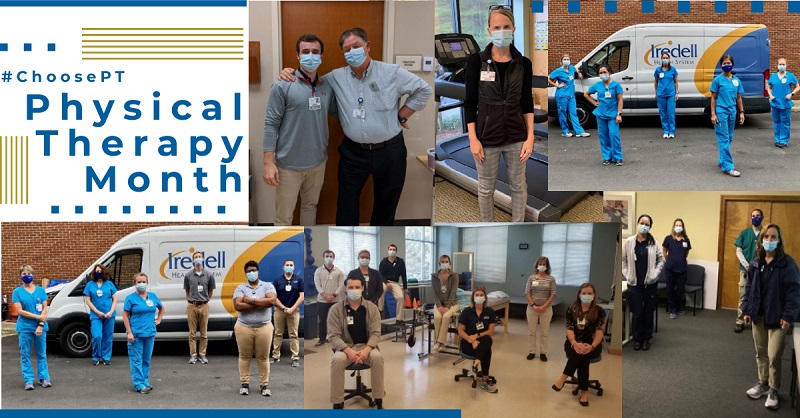 Special to Iredell Free News
During National Physical Therapy Month 2020, Iredell Health System is raising awareness about the benefits of physical therapy. This year's focus is on opioid abuse and improving physical activity.
Physical therapists and physical therapist assistants play a key role in helping people of all ages and abilities achieve their physical activity goals and improve their quality of life.
"We have a dedicated and skilled group of physical therapists and physical therapist assistants who play a critical role in improving people's lives," said Darren Smith, Iredell Health System's director of rehabilitation services. "We are privileged to serve patients in acute care, hospital-based skilled nursing, home health, and outpatient settings."
While COVID-19 is the most urgent public health issue now, the pandemic is exacerbating another one of the nation's current healthcare crises – the opioid epidemic.
Isolation and financial stress stemming from the COVID-19 pandemic have contributed to a spike in opioid overdoses and deaths, a crisis that has been destroying lives and disrupting the community since well before the pandemic began.
New COVID-19 cases and deaths continue to mount in Iredell County, but other public health ailments should not lose their place toward the forefront of healthcare concern, particularly those directly correlated and negatively affected by the pandemic.
As of October 27, the total number of Iredell County deaths attributed to COVID-19 was 45. The total reached 25 on August 27, only taking several months to equal the county's total of 25 opioid-related deaths in 2018.
That year, Iredell Health System joined the American Physical Therapy Association by launching an ongoing campaign called #ChoosePT, emphasizing physical therapy as a healthier alternative to opioids for treating pain.
While experiencing pain, patients are often drawn to medication as a quick fix. But seeing a physical therapist or other medical specialist provides patients with more treatment options. Not limited to a single prescribed route, patients can ask questions and evaluate safer alternatives.
Risks of opioids include addiction, depression, and intolerance. While medications mask the pain, physical therapists treat the underlying cause of the pain. In a 2018 study published by Health Services Research, patients who completed physical therapy for lower back pain were 89 percent less likely to use an opioid medication.
Most people know someone addicted to opioids, and misuse of the drugs can often translate to heroin use and other addictions. A 2019 CDC study showed that 7 percent of high school students reported current opioid misuse, and 14 percent reported misusing opioids at least once.
Physical therapists serve throughout Iredell Health System – some working inside Iredell Memorial Hospital with inpatients while others work on an outpatient basis. Iredell Home Health's physical therapists help patients rehabilitate in their homes, where they are most comfortable. Iredell provides physical therapy at its hospital-based skilled nursing facility and at outpatient clinics in Mooresville and Taylorsville.
There are times when opioids are appropriate, but Iredell physical therapists have helped patients successfully recover from both short-term and chronic pain, typically identified as pain lasting longer than three months.
Some patients, such as those with cancer, can benefit from a combination of treatments using both physical therapy and opioids for certain conditions.
Even when an opioid may be appropriate, it's crucial for patients to be educated on the side effects and risks. While emphasizing education, Iredell physical therapists will provide hands-on care and educate patients on basic mechanics and mobilization.
Physical therapists follow protocol outlines for post-COVID-19 care as laid out by the American Physical Therapy Association using CDC guidelines for protecting the staff and patients including temperature checks, constant disinfecting, wearing of masks and gloves, rearranging the waiting rooms, and treatment areas to maximize social distancing.
About Iredell Health System
Iredell Health System includes Iredell Memorial Hospital; Iredell Home Health; Iredell Wound Care & Hyperbaric Center; Community and Corporate Wellness; Occupational Medicine; the Iredell Physician Network and more. Iredell Memorial Hospital is the largest and only nonprofit hospital in Iredell County. The comprehensive healthcare facility has 247 beds; more than 1,700 employees; and has 260 physicians representing various specialties. Centers of excellence include Women's and Children's; Cardiovascular; Cancer; Surgical Services and Wellness & Prevention. The mission of Iredell Health System is to inspire wellbeing. For a comprehensive list of services and programs, visit www.iredellhealth.org.