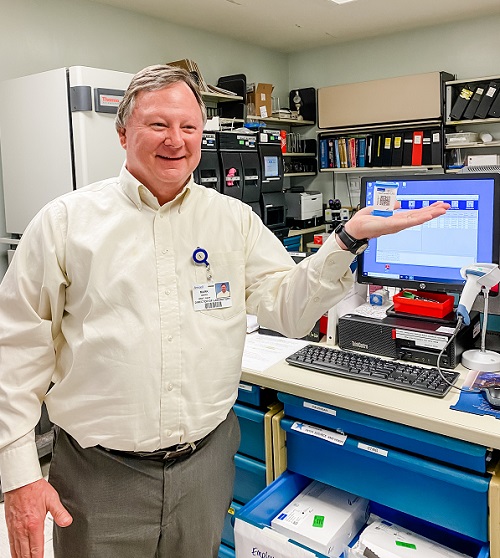 Special to Iredell Free News
It's a hospital department unseen by patients and often overlooked, but the massive nationwide undertaking of COVID-19 testing has put the Iredell Memorial Hospital Laboratory at the forefront of the community's concern.
As those tested wait to learn if they've contracted the virus – with the impending result set to impact the lives of them and their families – Laboratory personnel are utilizing advanced technology to deliver accurate results to as many community members as possible.
The Laboratory uses the automated diagnostic instrument GeneXpert to conduct the most common test for COVID-19, the polymerase chain reaction (PCR) test showing if a patient is currently sick.
While the Laboratory uses its GeneXpert as its primary instrument to perform COVID-19 testing, it is also one of a select number of laboratories with a Biofire Torch, a large-capacity rapid testing instrument that delivers COVID-19 test results while testing for other respiratory ailments. The Biofire's ability to detect an array of respiratory viruses will continue to grow in importance during the approaching flu season, as medical experts worry a severe flu outbreak could prompt a "twindemic."
To further its efforts to combat the spread of COVID-19, the Iredell Laboratory recently implemented rapid antigen testing to screen for those who may be infected and need a more definitive test, and antibody testing to show those previously infected with the coronavirus. The Laboratory will also have a second PCR test available starting in October.
By fulfilling orders of blood plasma, the Laboratory is also assisting the American Red Cross in using plasma of those who have overcome the virus and now possess essential antibodies to help treat some COVID-19 patients.
"All these added things are things we weren't dealing with three to six months ago. This is all new to combat this pandemic," said Mark Berry, Iredell Health System's director of laboratory.
The Laboratory uses informatics as a tool for lab stewardship – indicating to physicians the number of available tests and the correct order to administer the tests. Laboratory staff and physicians collaborate to identify the correct tests and volume of tests to administer, and use the specialized information technology to collect, process, and distribute information.
The Laboratory also tests all pre-procedural patients for COVID-19 in the days leading up to their procedures.
To ensure it is sufficiently equipped with COVID-19 tests, Iredell Health System operates an Incident Command team which includes hospital administration. Laboratory staff provide updates to the team on the number of COVID-19 tests currently available, the number of tests being conducted, and the number of tests sent to reference labs.
Administering the tests requires constant effort. The Laboratory only receives as many tests as it is allotted by a manufacturer, once going two weeks without receiving any. The Laboratory then strives to maintain everything it needs to administer tests – including specimens, swabs, and reagents.
Despite these challenges, Iredell's Laboratory has accomplished everything the hospital and its patients have needed throughout the pandemic, while continuing to administer routine tests to show patients' blood count, glucose level, electrolyte balance, kidney function, and liver function. Similar to other laboratories nationwide, the number of non-COVID tests conducted by Iredell Laboratory decreased at the beginning of the pandemic, but the number has recently grown after the hospital reinstated elective procedures.
"It's a battle every day here," Berry said. "Everyone in the lab has been very professional and stepped up to the challenge to help us meet the demands of our community."
About Iredell Health System
Iredell Health System includes Iredell Memorial Hospital; Iredell Home Health; Iredell Wound Care & Hyperbaric Center; Community and Corporate Wellness; Occupational Medicine; the Iredell Physician Network and more. Iredell Memorial Hospital is the largest and only nonprofit hospital in Iredell County. The comprehensive healthcare facility has 247 beds; more than 1,700 employees; and has 260 physicians representing various specialties. Centers of excellence include Women's and Children's; Cardiovascular; Cancer; Surgical Services and Wellness & Prevention. The mission of Iredell Health System is to inspire wellbeing. For a comprehensive list of services and programs, visit www.iredellhealth.org.