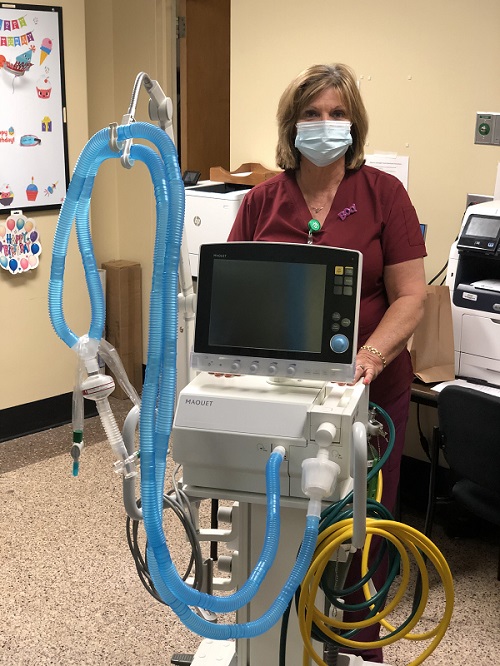 Special to Iredell Free News
While local residents have praised Iredell Health System providers and nurses throughout the year for risking their lives in the fight against COVID-19, there are many other essential workers who may be less known, including respiratory therapists.
Iredell Memorial Hospital's respiratory therapists help patients who have difficulty breathing, providing treatments that ensure patients are getting enough oxygen. They often treat patients with breathing-related health conditions like asthma, chronic obstructive pulmonary disease (COPD), and pneumonia. This year, they've played a crucial role in helping patients fight COVID-19.
A New Role
The novel coronavirus has thrown respiratory therapists to the pandemic front line. After experiencing a cough and shortness of breath, some COVID-19 patients develop worsened symptoms and go into severe respiratory distress.
Iredell's respiratory therapists see patients frequently and have witnessed firsthand some patients' conditions change drastically throughout the day. In less than an hour, a COVID-19 patient can go from talking to needing to be placed on a breathing machine because they are unable to breathe on their own.
Iredell Memorial couldn't manage without its respiratory therapists. And during the COVID-19 pandemic, the respiratory therapists' collaboration with nurses, physicians, and others has intensified.
While they have always depended on respiratory therapists, Iredell physicians are now more frequently relying on the opinions of those trained in emergency airway care to determine what actions to take for patients.
Consistently in close proximity to patients, Respiratory Department staff have had to think quickly during the pandemic to ensure their own safety as well. The staff follows strict preventive measures, including wearing an N95 respirator or a surgical mask, and a face shield while treating all of their patients.
"It was something that was totally out of the blue. In a matter of a couple of weeks, our whole lives changed, and we had no idea what we were dealing with," said Respiratory Care Director Bob Noble. "As far as learning what the disease is and how it affects people, I think we have really come a long way."
Remaining Equipped & Improving Care
By finding resourceful and innovative solutions to remain equipped with personal protective equipment, Iredell Health System has done everything necessary to protect its patients and staff when providing care, ensuring that all employees have the equipment and personal protective equipment needed to safely do their jobs.
COVID-19 requires patients to go on ventilators more frequently than other common respiratory diagnosis, but Iredell respiratory therapists work to keep their patients off of ventilators for as long as they can.
They have safely treated patients using non-invasive alternatives, including high-flow oxygen treatment blowing large volumes of warm, humidified oxygen into the nose and lungs.
"We're learning how to recognize those symptoms a lot faster and sooner, and we're relaying that to the physicians," Noble said. "When a patient is getting in trouble, we let the physicians know and change course, especially with the oxygen we may need."
Iredell Respiratory staff have also improved ventilation in more patients by using a process called Proning, repositioning patients from their backs to their stomachs and allowing them to stay in this prone position for 12 to 16 hours at a time while on a ventilator.
Due to the airborne nature of COVID-19, the department has transitioned many patients away from nebulizer aerosol therapy — which can cause respiratory droplets to remain in the air and increase risk of spreading the COVID-19 virus — to metered dose inhaler therapy, which delivers the medicine through a medication inhaler. They have also added extra filters on any medical devices that could lead to aerosolization of the COVID-19 virus to help reduce the risk of transmission.
The Iredell Respiratory Department has remained in contact with other hospital respiratory departments in the region and the North Carolina Board of Respiratory Care to stay informed about how other hospitals are treating patients.
Perfecting their techniques early in the pandemic prepared Iredell respiratory therapists for the later surge in cases.
Like many other medical clinicians, respiratory therapists are bracing for the influezna season. Typically an annual seasonal escalation in respiratory care demand is spurred by this familiar respiratory disease, and flu season this year adds uncertainty to an already unfamiliar time. Iredell
respiratory therapists encourage mask wearing and social distancing in public places and remind hospital visitors to remain masked even when they are in patient rooms.
Personalized Care
Iredell staff are concerned about taking the virus back to their families – including Respiratory Therapist Patricia Watson, who stayed with her husband in their camper following his heart surgery at the start of the pandemic.
But as their worry has grown, so has their vigilance.
"It's hard to come in to work faced with what we're faced with, but we try not to focus on the negative," Respiratory Therapist Angela Ryden said. "The main thing is to take care of the patient and make sure they're all right."
While many of the hospital's patients stay in the hospital for three to five days, COVID-19 patients typically stay 15 to 30. As Iredell respiratory therapists have gotten to know patients more personally during their lengthier stays, a patient's passing away can take a weightier toll on them and add to their exhaustion. Coming in every day to a new unknown, staff share meals and activities to maintain a sense of normalcy.
"I've been proud of our department," Noble said. "There have been times when it's been tough, but overall we've really relied on each other and depended on each other to keep our morale up."
Respiratory therapists have been in short supply nationwide during the pandemic, but the Iredell Respiratory Department has remained appropriately staffed. The department has managed to care for all of its new patients without affecting its care of existing patients.
With its robust resources and trusted care, Iredell Memorial has cared for a large majority of the county's COVID-19 patients. COVID-19 cases and a large patient population throughout the year have bolstered the Respiratory staff's experience and maintained the department's quality of acute care.
Noble credits a portion of his team's success to the overwhelming support from the community.
"The support the community has given us has really made a big difference," he said. "It makes a big difference to know that people recognize what it is us healthcare workers are doing. We do it because we love our job and we love taking care of our patients. These are our patients; they're our top priority."
Respiratory therapists experience the joy of seeing a COVID-19 patient recover and return home healthy. And though they take that stress home with them, oftentimes struggling to sleep before returning to another 12-hour shift on their feet, none of the department's respiratory therapists questions the rewarding nature of the role they cherish.
"We do it because we love our patients and we love what we do," Watson said.
About Iredell Health System
Iredell Health System includes Iredell Memorial Hospital; Iredell Home Health; Iredell Wound Care & Hyperbaric Center; Community and Corporate Wellness; Occupational Medicine; the Iredell Physician
Network and more. Iredell Memorial Hospital is the largest and only nonprofit hospital in Iredell County. The comprehensive healthcare facility has 247 beds; more than 1,700 employees; and has 260 physicians representing various specialties. Centers of excellence include Women's and Children's; Cardiovascular; Cancer; Surgical Services and Wellness & Prevention. The mission of Iredell Health System is to inspire wellbeing. For a comprehensive list of services and programs, visit
www.iredellhealth.org.