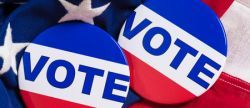 BY KARISSA MILLER
Providing absentee-by-mail ballots and keeping poll workers safe are two ways the Iredell County Board of Elections intends to make Election Day run more smoothly on November 3.
Becky Galliher, Iredell County elections director, explained that the N.C. State Board of Elections has implemented a North Carolina absentee ballot request portal.
"It allows them to request this online and the request can be made by a voter, a near relative or a legal guardian. Once they make the request it comes to us at the county level," Galliher told county commissioners on Tuesday.
Visit www.ncsbe.gov for absentee ballot request portal and other information or by visiting the county's website at www.co.iredell.nc.us/162/elections.
More than 19,420 requests for absentee ballots have been made in Iredell County as of Tuesday, Galliher said.
In North Carolina, voters have to request an absentee ballot to receive one, she said. The request must include the voter's valid N.C. Drivers License number or the last four digits of their Social Security number. The deadline to submit an absentee-by-mail request is Tuesday, October 27.
Absentee ballots must be postmarked by November 3 and received by the elections office by November 6.
Track your ballot
The state board has made it easy for those who vote by mail to track their ballots, Galliher said. This gives voters a way to track their ballot and receive updates.
For voters who don't have computers, they can call the Iredell County Board of Elections and the staff will look up their ballot. The phone number is 704-878-3140.
Galliher mentioned that election websites also provide voter registration lookup, sample ballots, polling location and forms and other election and voting information.
Coronavirus Safety
Some steps the board of elections is taking to keep poll workers and voters safe are:
• Social distancing will be practiced at the one-stop sites and on Election Day.
• Hand sanitizer is offered at the door, along with masks and gloves.
• Single-use ink pens will be used. Voters can take the pens with them or throw them away.
• There will be periodic cleaning with the surfaces being cleaned.
• All poll workers will be wearing masks.
FAQ
Here are answers to frequently asked questions about when and how to vote. All information is provided by the Iredell County Board of Elections.
When and where is Early Voting?
Early voting will begin on October 15 and run through October 31. There will be six one-stop sites.
The sites are:
• Board of Elections, 203 Stockton Street, Statesville
• War Memorial, 220 N. Maple Street, Mooresville
• Peninsula Baptist Church, 687 Brawley School Road, Mooresville
• Mt. Mourne IB, 1431 Mecklenburg Highway Mooresville
• Troutman Baptist Church, 305 Perry Road, Troutman
• Harmony/North Iredell, American Legion Post 113, 3085 Harmony Highway, Harmony
The hours will be the same at all locations: 8 a.m. to 7:30 p.m. Monday through Friday and 8 a.m. to 6 p.m. Saturday. However, on October 31 the hours will be 8 a.m. to 3 p.m.
This year, there is additional parking behind the board of elections building.
How do I find out if I'm registered?
Call the Board of Elections at 704-878-3140 or log onto www.co.iredell.nc.us/elections. Go to Government, then Elections. Under "Quick Links", click on "Verify Voter Registration. Enter your information and press enter. When you see your name highlighted in blue, click on your name. Your voter information will appear.
How do I find my polling place?
You can call the Board of Elections office at 704-878-3140 or view the web at www.co.iredell.nc.us/elections. Click on "Verify my Voter Registration Information/Find My Polling Place." Enter your information and click on search. When you see your name highlighted in blue, click on your name. After your information appears, scroll down and look for your polling place information.
What are Election Day hours?
All voting places in Iredell County are open from 6:30 a.m. to 7:30 p.m. on Election Day. There is no voting at the Board of Elections office on Monday, November 2, or Tuesday, November 3, 2020.
Do you need a photo ID in order to vote?
No photo ID is required.
What if I move before Election Day?
For voters who fail to change their address by the registration deadline, there is a procedure that allows them to vote. On Election Day, they can go to their old precinct and fill out a voter update/transfer form, then take that form to the new precinct to vote. Registration deadline is October 9.
Is curbside voting available?
You may vote curbside if you're unable to enter the voting place without physical assistance due to age or disability.
Curbside voting is available at the one stop sites and at the polling places. Signs will direct voters to the appropriate area. Galliher said that curbside voting is intended for seniors or those with a disability. If you are a senior and concerned about coronavirus, then you can take advantage of this service, she said.
Additional Questions?
The Iredell County Board of Elections Office is open from 8 a.m. to 5 p.m. Monday through Friday. Call 704-878-3140.