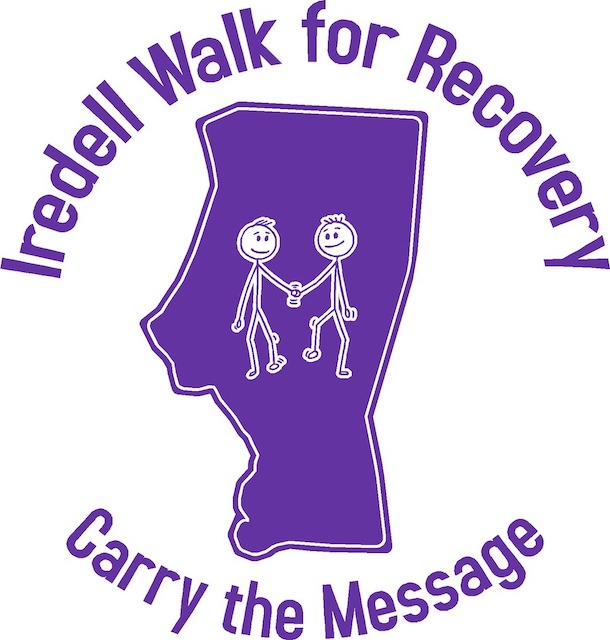 Special to Iredell Free News
Because Recovery is too important to cancel, join organizers of the 3rd Annual Iredell Walk for Recovery for four weeks of virtual programming throughout September, which is National Recovery Month.
Visit the group's website or Facebook page throughout September to hear important messages of support from many Iredell County leaders and experts.
The Walk for Recovery team is especially excited about its Grand Finale Show, debuting Sunday, September 27, at 7 p.m. The program features powerful recovery stories and special guests, including Statesville Police Chief David Addison, Fifth Street Ministries Director Patti West, and Sandy Tabor-Gray, former chair of the Drug-Alcohol Coalition of Iredell (DACI).
The finale's entertainment also includes talented musical guests Rockie Lynne, Dane Page, and Brice Reese and Coite Gullion.
WAME's Billy Buck Blevins hosts each program.
WEEKLY PROGRAMS
Focus: Prevention
♦ Tuesday, September 1 – Iredell County Commission Chairman James Mallory with Susan Smith, Piedmont Mediation
♦ Friday, September 4 – Iredell-Statesville Schools Superintendent Jeff James with I-SS Substance Abuse Coordinator Michelle Wigley
Focus: Mental Health
♦ Tuesday, September 8 – Troutman Mayor Teross Young with Jeff Eads of Partners
♦ Friday, September 11 – Bryan Duncan, Director of I-CARE
Focus: Substance Use
♦ Tuesday, September 15 – Mooresville Mayor Miles Atkins with Jill McLelland, Director of the Drug-Alcohol Coalition of Iredell
♦ Friday, September 18 – United Way Executive Director Brett Eckerman with Megan Redford, Iredell County Health Department's Public Information Officer
Focus: Recovery
♦ Tuesday, September 22 – Statesville Mayor Costi Kutteh with Pastor Brian King – Celebrate Recovery coordinator at Christ Church, Statesville
♦ Friday, September 25 – N.C. Sen. Vickie Sawyer
SPONSORS
♦ Silver Level – Addiction Recovery Medical Services (ARMS), Drug-Alcohol Coalition of Iredell, Fifth Street Ministries, Iredell Free News, Jodi Province Counseling, Partners Behavioral Health, Piedmont Healthcare, PQA, Southern Family Medicine, WAME
♦ Bronze Level – Center For Emotional Health, Turning Point
LEARN MORE
Visit https://sites.google.com/view/iredellcountywalkforrecovery/home