BY DEBBIE PAGE
debbiepage.iredellfreenews@gmail.com
Lake Norman State Park's new superintendent, Scott Avis, was destined to chose an outdoor career.
Spending his childhood in the beautiful Shenandoah Valley of Virginia cemented his love of nature, and his parents instilled a concern for the environment and wildlife.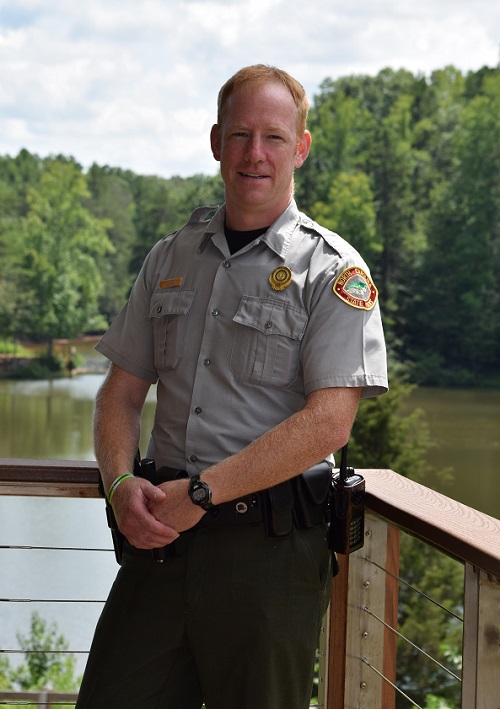 After arriving at LNSP in March, Avis quickly realized, as he has interacted with visitors, that there is a "real love for the park, a real sense of ownership in the community around the park that I didn't experience at Falls Lake and that I find really nice and refreshing."
"People in the community have such an admiration for the park and the space. We've gotten support from the Friends of Lake Norman State Park (FLANO), bike groups, and visitors who come here every day giving words of encouragement," he added.
Several improvement projects are underway during the COVID-19 pandemic. FLANO has revitalized the group camp area — which is currently closed — and added a new site — and had work days to eliminate invasive plant species in two areas. Plans to replant native flora are schedule for September.
Six rental cabins are also now being built, along with 11 full hookup camp sites and a brand new bathhouse. These additions will increase the park's capacity and offer more year-round options than just the primitive sites during the winter camping lull, added Avis.
Planning is nearly complete on the rerouting of a large portion of the Lakeshore hiking trail, a project that is on hold until the COVID-19 restrictions are lifted on field work. Avis is also looking at additional locations to further expand hiking trail options.
Avis said the biking and hiking trails, fishing areas, and picnic areas are operating in Phase 2 and enjoyed by folks weary of being cooped up. Swim beaches, boat rentals, group camping, and the Visitors Center and community Building remain closed. Outside access bathrooms are open to visitors.
More areas should reopen when North Carolina enters Phase 3, but with the summer season nearly over, Avis does not anticipate the reopening the swim beach or boat rentals to occur because of the short time left and the need for additional staffing.
Avis looks forward to seeing the park at full activity level to truly understand its functioning and future needs.
"To me, that's one of the main purposes on the park — as a gathering place for people to be together with nature. Right now it's not the same. I'm not getting to see it at its full potential at the moment."
He looks forward to the new challenges of operating the additional camping facilities and doing some prescribed fire in the park. "We can use it wisely to help our environment be healthier."
BACKGROUND
When he went to Western Carolina University, Avis knew he would never be happy indoors stuck in a cubicle, so he pursued a degree in natural resource management, with a concentration in forest resources.
Avis's internship with the U.S. Forestry Service in the wilds of the North Carolina mountains led him to evaluate brook trout streams to study the fish in their natural habitat versus a farm-raised environment.
His college experience also included work with the Little Tennessee Sustainable Forestry Project, during which he performed vegetative inventories, tree removal practices, and small mammal surveys.
After college, Avis joined Raleigh's Monroe Timberland Consultants for nine years, working with private landowners throughout the Piedmont and southern Virginia to manage their resources, including planting and cutting trees, tax evaluations, and boundary line maintenance.
Avis also has experience in urban forestry, helping landowners and developers with tree conversation measures to comply with Raleigh's 10 percent tree conservation ordinance.
In 2013, Avis pivoted to the N.C. State Park System, becoming a park ranger at Falls Lake State Recreation Area, a collective of seven access areas scattered around the shoreline of an undeveloped, 12,000-acre reservoir.
With more than 5,200 acres featuring 300 campsites, five swim beaches, numerous boating ramps, mountain biking trails, and quiet paddling, fishing and swimming areas, the Falls Lake park provided Avis with a wide range of experiences that prepared him for leading Lake Norman State Park.
"I really enjoyed the job and got to practice a lot of my education and training that I had been doing for so many years already to help manage the park's natural resources and facilities."
Avis said that park, like Lake Norman, has about 1 million visitors each year.
In 2016, Avis earned his advanced ranger status and began pursuing his interest in using fire to manage land. He conducted controlled burns and completed numerous trainings to increase his expertise in the subject, becoming an N.C. State Parks "Burn Boss" in 2018 and earning the N.C. Prescribed Burner of the Year in 2019.
In February, Avis accepted the superintendent position at LNSP, after the retirement of Greg Schneider, and began his new career just as the park limited operations with onset of the COVID-19 crisis.
"Now I'm just trying to figure out how to do the job in a pandemic!"
Avis jumped at leading LNSP because he wanted to continue working near a body of water at a busy and growing park. "I knew it would be a good experience and a challenging one."
"I find the most rewarding things we do in life are the most challenging, so I thought it was a good time in my life to grow again in my career. I was confident that Lake Norman would push me to grow and improve in my abilities to serve the state and do the job here."
Avis also felt the job would give him a great work/life balance for his family, wife Dr. Helen Avis, who is director of outcomes at the Methodist Homes for Children, and three daughters, teens Grace and Sawyer and 4-year-old Merit. "It was a good time in our lives to relocate the family."
The family looks forward to hiking, biking, boating and camping at western N.C. state parks.
JOB OPENINGS
Avis is currently seeking candidates for two rangers and two permanent maintenance workers to help operate the park. Contact Avis at scott.avis@ncparks.gov if interested.