Special to Iredell Free News
Iredell County, the Town of Mooresville and the City of Statesville have finalized their reopening plans in response to Phase 1 of Gov. Roy Cooper's modification of the state's Stay-At-Home order, which takes effect at 5 p.m. on Friday, May 8.

Iredell County
There will be a few changes in services provided by Iredell County government.
"It really doesn't change County operations much for us because we couldn't scale back a lot," County Manager Beth Jones explained.
All County departments will continue to provide services remotely, virtually and electronically if at all possible and face-to-face interactions will be by appointment only during phase I, she added.
The only two departments that significantly modified operations after Gov. Cooper's initial stay-at-home order were the public libraries and Parks & Recreation.
Beginning Monday, May 11, Parks & Recreation personnel will ensure parks are open. That includes bathrooms, water fountains and boat ramps, but playgrounds and the Iredell County Recreation Center will remain closed during phase I.
Libraries will continue to operate the way they have during the initial stay-at-home order (Monday-Friday) by providing appointment only time slots to students in grades 6-12 between the hours of 10 a.m. and 2 p.m. so they can complete their school work. The library will open again from 3 to 5 p.m. for pick-up and drop-off of reserved library materials.

Town of Mooresville
The Town of Mooresville released a table that provides information about the Town's Phase 1 Reopening Plans for the Town of Mooresville.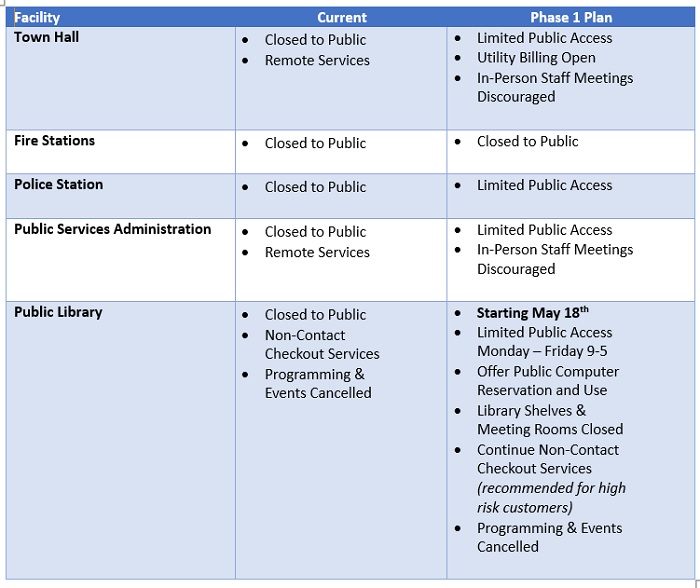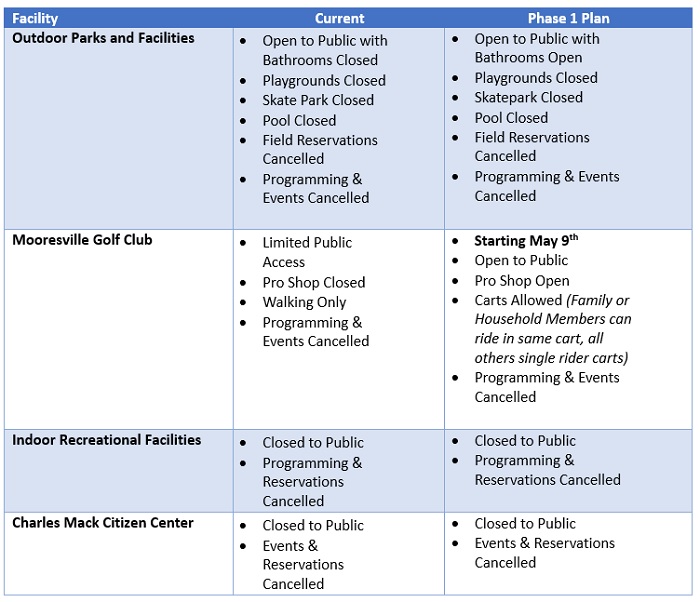 Each facility has a separate plan with regards to appropriate personal protective equipment (PPE) and cleaning routines to ensure the facility is reopened as safely as possible with appropriate risk mitigation measures in place.
Phase 1 Plan will commence on Monday, May 11, unless otherwise noted above.

City of Statesville
Limited public access to city facilities will be allowed by appointment. Utility collection will continue to be taken by drive-thru lanes. Bathrooms in the parks will be open, but playgrounds will remain closed. Public meetings will continue to limit public admittance.
The table below provides a higher-level view of the Phase 1 plans for reopening municipal facilities. Each facility has a plan specialized to their functions and operations, including appropriate use of personal protective equipment and cleaning schedules. Phase 1 will commence on Monday, May 11.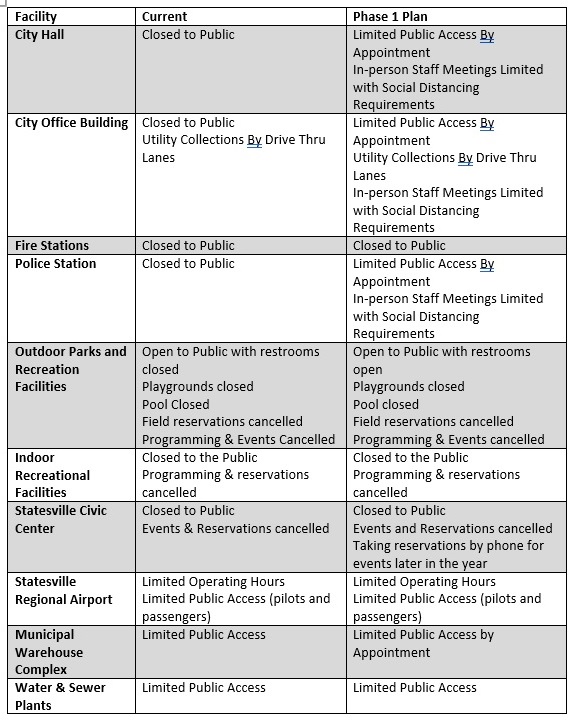 Town of Troutman
Interim Town Manager Jim Freeman told council members and the mayor that during Phase 1 the town would continue restricted operations and begin preparing for limited opening activities by Phase 2 implementation.
It is important that the plan be flexible and reassessed for any unforeseen COVID-19 related circumstances, such as but not limited to increased COVID-19 cases, Freeman said in an email to town officials.
"Hopefully we are on the right path towards returning to some normalization of town business/operations," he wrote.
These charts show the town's tentative plan for all three phases of Gov. Cooper's plan: