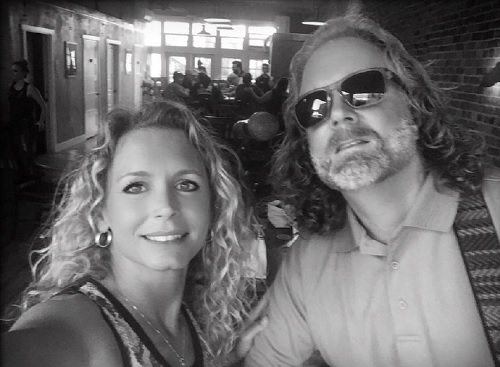 Special to Iredell Free News
The performances of Walter Finley and April Dawn have become a bit of a staple on Lake Norman. Even during the extreme challenges that COVID-19 has presented to the entertainment industry, the musicians have been relentless in their effort to bring a positive message to Mooresville and the surrounding Lake Norman communities.
"We are big believers in positivity. These are trying times for everyone, and music can take the edge off things and bring the community together," Walter said. "Our BYOB (Bring Your Own Boat) live music shows on Lake Norman are just the answer. We follow social distancing guidelines while people can anchor their boats and enjoy free concerts performed from our dock. It's the least we can do."
The dock is owned by Mary Cecilia Harmon, who allows the duo to use the dock for these performances.
Walter and April Dawn have even bigger aspirations for their positive message and building a music community. Inc. is sponsoring the "Small Business, Big Impact Contest" and will be awarding a new Mercedes Sprinter Van to one lucky winner. Learn more about the contest HERE.
"This would allow us to fulfill our goal of travelling, performing, and recording with prominent out-of-work musicians throughout the country. We would post these performances on our YouTube page and start a community for music lovers," said April Dawn.
"A lot of people would support this effort. Music can soothe the soul in trying times, and this would create a great opportunity for many struggling musicians and performers," Walter added.
The talented duo was invited to perform at the North Carolina Country Music Awards in January, where Walter garnered second place for the February Countdown Songwriting Contest. He even wrote a song for these challenging times called "Baby We Can Do This."
Walter's original music exemplifies the Americana genre with a touch of country. April Dawn provides melodic harmonies. The end result is a lot of complexity in memorable tunes with powerful lyrics and Walter's unique guitar style.
They can be seen on their dock on Wednesdays from 6 to 8 p.m. in the Slanting Bridge Road area of Lake Norman, which is in the northwest corridor of the lake. They have seen an increase in their audience recently with as many as twenty to thirty boats participating. For more information you can visit walterfinley.com or Walter Finley Music on Facebook.
Video