BY STACIE LETT CAIN
Although 2020 has been a year full of challenges, Statesville Mayor Costi Kutteh sees a future full of promise and hope.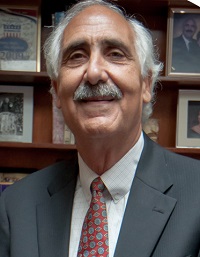 "Many people are saying how much they are looking forward to 2020 being over and hoping 2021 is a better year," Kutteh said during his annual year-in-review during Monday's council meeting. "We are looking forward to 2021 and will continue to display what I call the Statesville spirit. People have been more generous than ever before. I envision a 2021 where we will see great needs and continue to meet them."
Citing everything from the opportunity to engage with folks from different backgrounds and embrace commonalities to praising city employees for their efforts and dedication during the pandemic, Kutteh expressed gratitude and appreciation for the lessons learned in 2020.
"I envision a 2021 where our opportunities to learn from one another will increase, beginning with our own city employees and city officials," he explained. "We learned as a city to understand an evolution of an all-consuming disease. We felt the impact of COVID-19 in medical, spiritual, emotional and other personal ways. I envision a 2021 where we have greater appreciation for the roles of our essential workers whatever the issue may be."
His greatest appreciation was for city staff and their tireless efforts to get the city through these trying times.
"As always, our 400-plus employees have kept our city together," he explained. "More than ever they deserve our thanks and praise. They form our lifeblood, and we should always be aware of that. So please accept our best wishes for a joyous holiday season and a happy new year."
CITY BUSINESS
In some year-end business, the Council approved a sketch plan for the Greenbriar subdivision located along South Greenbriar Road. The development plans include 139 single-family detached units on about 59 acres would each come with a price tag of about $250,000. After some discussion about increased traffic and access points onto local streets, the biggest concern was utility usage.
"I'm a little concerned that the only service provided by the city is sewer services because of a situation we are in with another subdivision," Kutteh explained. "When we only provide sewer, we have no mechanism to collect those service fees when they are not tied in to water service."
Although Kutteh did not disclose the particular subdivision, he did say that the city was looking at a large amount of unpaid sewer bills coming from a subdivision that has not paid for those services for some reason. By not providing accompanying water service, the city was, as the mayor explained, "handcuffed" in how it collects those fees.
"I am not inclined to want to put the city back into a similar situation without having a remedy should this happen again," Kutteh said.
The sketch plan was approved by the council with the possibility of conditions placed to insure collection of those fees.
In other business, the City Planning and Zoning Director Sherry Ashley explained that due to changes by the state legislature, text amendments to the city's ordinances dealing with development are being discussed. Changes, according to Ashley, are either mandatory or voluntary but in general won't change the current city procedures except in one particular aspect.
"Most of the changes are more in terms of language used," she explained. "We are already processing things the way we should — the legislature just wants to see uniformity in the language between jurisdictions."
One major change would be in quasi-judicial proceedings and the necessity for them. Streamlining new development proposals and eliminating the need for those proceedings could reduced by two months the time required to get approval for new developments. This would be a major benefit to developers and help the city compete with other jurisdictions for new development. But with the magnitude of the changes, city officials decided to take more time to review and after opening the public hearing postponed any decisions made to the January 4 council meeting.