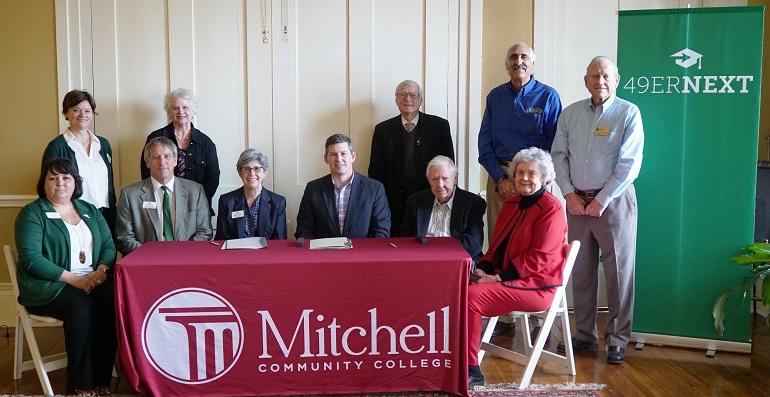 Special to Iredell Free News
UNC Charlotte and Mitchell Community College have forged a new co-admission partnership to facilitate degree completion and student success by creating a seamless pathway for individuals who want to start their degree at Mitchell and complete their degree at UNC Charlotte.
This innovative co-admission program, called 49erNext, allows Mitchell and UNC Charlotte to engage in a fully integrated proactive advising model, ensuring students' progress toward the timely completion of a baccalaureate degree. As participants in the 49erNext program, students are eligible to transfer into more than 75 undergraduate degree programs (130-plus majors) at UNC Charlotte, as long as they earn an Associate in Arts, Science or Engineering degree at Mitchell with a minimum 2.0 cumulative GPA.
Mitchell's college transfer degree programs allow students to begin their studies locally and continue their education at a four-year institution, often at a significant cost savings.
"UNC Charlotte is the senior institution in North Carolina where the majority of our graduates enroll once they have completed their transfer degree here with us," noted Vice President for Instruction & Chief Academic Officer Camille Reese. "This new partnership with UNC Charlotte opens up additional opportunities for our students. We are pleased to be able to partner with UNC Charlotte for this exciting program."
In addition to proactive advising, students enrolled in the 49erNext program will also have access to:
♦ Guided transfer pathways for intended majors/programs at UNC Charlotte;
♦ Academic advising and career services support at Mitchell Community College;
♦ 49er athletic event student tickets;
♦ Recreation center (UREC) access ($25 fee per semester*);
♦ UNC Charlotte library access;
♦ CATS All-Transit Pass ($25 fee per semester for light rail and bus access*);
♦ Financial aid/FAFSA workshops; and
♦ Major and career exploration workshops
Both institutions have agreed to make collective institutional decisions and implement policies and processes that commit to:
♦ Put students first — enable students to earn a quality degree in a timely manner;
♦ Foster success — ensure and expect all students to achieve their full potential;
♦ Ensure equity — ensure that all students, regardless of gender, race, income or family educational history, have equal opportunity.
A formal signing kicking off the 49erNext program at Mitchell was held on March 12. Attending the signing from UNC Charlotte were Dr. Joan Lorden, Provost and Vice Chancellor for Academic Affairs; Dr. John Smail, Associate Provost for Undergraduate Education; Tina McEntire, Associate Provost, Enrollment Management; and Katie Ramstack, Project Manager, Enrollment Management. Mitchell dignitaries included senior administration, board members, faculty and staff.
Learn More
Students interested in learning more about the 49erNext program should visit mitchellcc.edu/49erNext or email 49erNext@mitchellcc.edu.
About Mitchell Community College
Mitchell Community College serves 9,000 students annually through a variety of curriculum, continuing education and workforce development programs. With campuses in Statesville and Mooresville, Mitchell CC offers quality, affordable education options to residents of Iredell County and the surrounding area. For more information, visit www.mitchellcc.edu or call (704) 878-3200 (Statesville Campus) or (704) 663-1923 (Mooresville Campus).