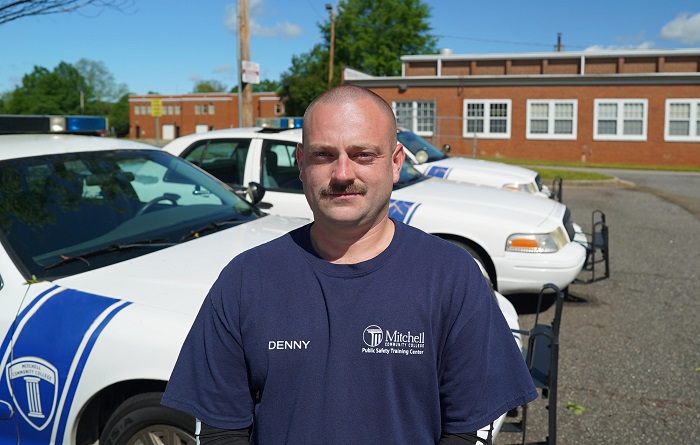 Special to Iredell Free News
Mitchell Community College student Thomas Denny has been named the first recipient of the scholarship created in the memory of fallen Mooresville Police Department Officer Jordan Sheldon, who was killed in the line of duty on May 4, 2019.
Denny is a current cadet in the Basic Law Enforcement Training (BLET) program and will graduate this month.
As is the case with many students, receiving a scholarship helped relieve Denny's financial burden and made it easier for him to complete his training to become a law enforcement officer. When Denny learned his scholarship was created in memory of an officer who died in the line of duty, the support took on a deeper meaning.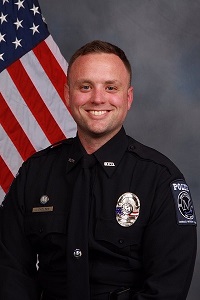 "When I found out it was Officer Sheldon, it really meant a lot to me to receive that," Denny said. "Mooresville will be one of the agencies I will apply to because he was there. It really meant a lot."
Denny recalled as a child he was always interested in what police officers were doing when he saw them in his community. This interest stuck with him. "I've always wanted to be in law enforcement," he shared. "You see things going on and you want to do something to help."
The BLET program prepares graduates to sit for state certification and positions such as patrol officer with city, county or state law enforcement agencies. The program prepares students for the state-mandated examination required to become a sworn law enforcement officer in North Carolina.
Mitchell BLET faculty members have made an impact on Denny throughout the rigorous coursework.
"I didn't expect instructors to go above and beyond the way that they do to help us understand," he noted.
The experience has only solidified his goal to work in law enforcement. After he completes his coursework and earns his certification, Denny plans to start as patrol and work his way up the ranks, staying local to Iredell County.
BLET involves intense coursework and, depending on course structure, can last for up to eight months for night class students like Denny. BLET is also offered over four months during the spring, summer and fall semesters for day students.
"It takes a lot of dedication and hard work," Denny said. "It's not an easy task." He encourages prospective students to be sure law enforcement is their calling and they are willing to put in the effort.
As the first anniversary of Officer Sheldon's death approaches, the Mitchell Community College Foundation is asking supporters to contribute to the Officer Jordan Sheldon Memorial Scholarship endowment. "Our goal is to grow this endowment to $100,000," said James Hogan, Mitchell's vice president for Advancement.
"As we've worked with Officer Sheldon's family, their goal from the beginning was for this scholarship to make something positive out of something so terrible. It is so humbling to see our friends, neighbors, and businesses support this effort and enable Mitchell to award multiple scholarships. Their spirit of giving is generating so much goodness in our community—and, we hope, healing for Officer Sheldon's family."
Community members can donate to the scholarship endowment online at mitchellcc.edu/Sheldon, or by mailing a check to the Mitchell Community College Foundation, 500 W. Broad Street, Statesville, NC 28677. Please indicate the gift is for the Officer Jordan Sheldon Scholarship endowment in the memo line.
About Mitchell Community College
Mitchell Community College serves 9,000 students annually through a variety of curriculum, continuing education and workforce development programs. With campuses in Statesville and Mooresville, Mitchell offers quality, affordable education options to residents of Iredell County and the surrounding area. For more information, visit www.mitchellcc.edu or call (704) 878-3200 (Statesville Campus) or (704) 663-1923 (Mooresville Campus).