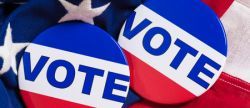 FROM STAFF REPORTS
Some 82,841 ballots have been cast in Iredell County for the general election.
According to the N.C. State Board of Elections, 66,208 county residents took advantage of the two-week early-voting period and cast ballots at six one-stop locations throughout Iredell County. Another 16,633 people have cast their ballots by mail.
Some 63.3 percent of all registered voters in Iredell have cast ballots.
Across the state, 4,531,466 ballots have been cast, representing 61.6 percent of all registered voters.
Election Day Information
For registered voters who have not cast their ballots, the polls will be open from 6:30 a.m. to 7:30 p.m. on Tuesday, November 3, throughout the county. Ballots must be cast in the precinct where you are registered. Find your polling place at https://vt.ncsbe.gov/PPLkup/
Questions
Contact the Iredell County Board of Elections at 704-878-3140.