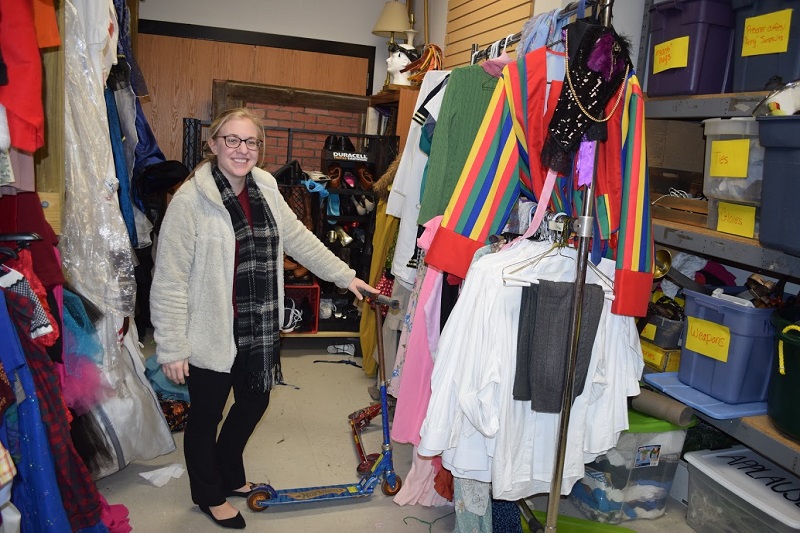 BY DEBBIE PAGE
debbiepage.iredellfreenews@gmail.com
Drama and chorus students at Lake Norman High school are teaming up to produce the musical "Matilda," which will run February 26-28 at 7 p.m., followed by an understudy show at 2 p.m. on February 29.
The musical, set in London, portrays the story of Matilda Wormwood, a 5-year-old genius who discovers her telekinetic powers and uses them to retaliate against her unkind, self-absorbed parents and her school's wicked and bullying headmistress, Miss Trunchbull.
Drama teacher Caroline Meisner said the musical is much darker and twisted than people realize. Matilda's unusual powers and her love of books help her escape from the terrible isolation she feels from her parents, who openly boast that Matilda is unwanted and unloved.
Her parents are "about looks, not books. Her father only cares about TV and making money. Her brother is the favorite because he is like his parents."
However, when Matilda finally enters Crunchem Hall Primary School, she meets Miss Honey, a shy, sweet, motherly woman who recognizes and nurtures Matilda's gifts. She also makes friends with classmate Lavender and joins other classmates and Miss Honey to combat the oppression of the cruel Miss Trunchbull.
Meisner said Miss Honey, who lost her parents at an early age, empathizes with the neglected Matilda. "They help each other to be better through their journey together."
A Greensboro College graduate, Meisner earned a bachelor's degree in theatre education and minors in dance and humanities. She taught in theater arts camps in New Jersey and Florida and worked with Children's Theater of Charlotte before arriving at Lake Norman High.
"I love teaching. It's in my nature to want to help people. Performing is secondary to me — this is my dream job," said Meisner. "I use my dance background when I direct because I get very physical on stage with the students as they are learning dances or I am blocking the show."
Because this is her first year at the school, Meisner wanted to stage a big show to help build the program but also one that also had some familiarity to a general audience.
After considering a few other possibilities, Meisner was inspired to choose "Matilda" after hearing one of the musical's songs, "Revolting Children," on her Spotify feed.
"I like dark stuff that displays morals at the end, that teaches a lesson," said Meisner, who chose a play depicting Holocaust for the department's fall production.
Meisner believes "Matilda" will appeal to all audience members because of the many types of relationships depicted in the show. "There's no way you cannot find someone to identify with, as you are following the different stories, whether it's the parents, kids, teachers, or the principal."
"The characters develop friendships, deal with bullying, and fight against poor use of authority."
Meisner believes attendees will also love the songs and music, which comes from a variety of musical styles, ranging from rock, lyrical ballads, and quirky pieces.
Meisner said 44 students have roles in the musical, most of whom are in theater or chorus classes. Teacher Tom Devine's construction students are in the process of building a multi-level set to house the play's five sets. Other students are creating costumes for the large cast.
"All hands are on deck and sharing the work," said Meisner, who is being aided in planning and execution by Virginia Shutt, the school's chorus teacher and show's musical director. Gina Duckworth of the Mooresville Children's Theater is serving as choreographer.
Meisner also applauded the work of student assistant directors Ashlee Jenkins and Elyssia Miano, stage manager Sierra Schnars, assistant stage manager Sidney Andrews, and set design assistants Leighanna Weems and Savannah Shumaker for their invaluable assistance.
Chorus Booster Club Lisa Blattner and her husband David have also been helping extensively with the production. Louisa Dow is overseeing public relations.
Sound and light crew members are Jade Duerr, Kenneth Lowman, Bradley Beasley, Katelyn Kerr, and Katherine Tidwell.
In 1988, Raold Dahl published "Matilda," his last long-form book, which won the Children's Book Award. The book then became a movie in 1996, followed by a Royal Shakespeare Company musical version in 2010, with production's book written by Dennis Kelly and musical score by Tim Minchin.
"Matilda" won four Tony Awards on Broadway and received 43 additional international awards, including a record-breaking seven Olivier Awards, the U.K.'s most prestigious theater award.
Tickets
Tickets for "Matilda" are $10 for students (all ages), $12 for adults. Those under age 4 and LNHS teachers get in free. Tickets can be purchased online HERE
Seats are first come, first serve. Doors open at 6:30 p.m. for the evening performances.
Cast
♦ Matilda – Samantha O'Sullivan (Allison Wagner – understudy)
♦ Miss Honey – Julia Dow (Ashley Gates – understudy)
♦ Mrs. Agatha Trunchbull – Sarah Lorenzi (Delaney Stoltz – understudy)
♦ Mrs. Wormwood – Maegan Bellassai (Eleni Kash – understudy)
♦ Mr. Wormwood – Chase Liggett (Dylan Gearhart – understudy)
♦ Michael Wormwood – Ethan Wagner
♦ Bruce Bogstrotter – Dylan Gordan
♦ Rudolpho – Joey Azzara
♦ Children's Entertainer – Brady Sheppard
♦ The Escapologist – Bradley Brown
♦ The Acrobat – Caroline Murawski
♦ Amanda Thripp – Kelly MacDade
♦ Alice – Carson Vetter
♦ Hortensia – Sarah Szostak
♦ Tommy – Madeline Macry
♦ Lavendar – Anleigh Hall
♦ Mrs. Phelps – Makayla MaLone
♦ Sergei – Brady Sheppard
♦ Henchmen – Bradley Brown, Noah White
♦ Doctor – Noah White
♦ Cook – Sarah Lawrence
♦ Nigel – Aiden Maggor
♦ Eric – Jet Teasley
Parent/Big Kid Ensemble Members – Ashley Gates, Bradley Brown, Brady Sheppard, Caroline Murawski, Chase Liggett, Delany Stoltz, Dylan Gearhart, Eleni Cash, Gracie Seiler, Jocelyn Clemente, Jordyn Trimberger, Julia Dow, Kamryn Bullis, Kathleen Bodine, Kayleigh Wisniewski, Lauren McCarty, Maegan Bellassai, Maggie Raker, Makayla Malone, Marguerite Blattner, Maya Schacher, Noah White, Sara Lawrence, Sarah Lorenzi.
Little Kid Ensemble – Aiden Maggor, Allison Wagner, Anleigh Hall, Blake Epstein, Carson Vetter, Dylan Gordon, Eden Simpson, Jet Teasley, Kayla Abboud, Kelly McDade, Lilly Shuping, Madeline Macry, Makayla McCarty, Natalie Hoffses, Peggy Alt, Rachel Walker, Samantha O'Sullivan, Sarah Szostak.