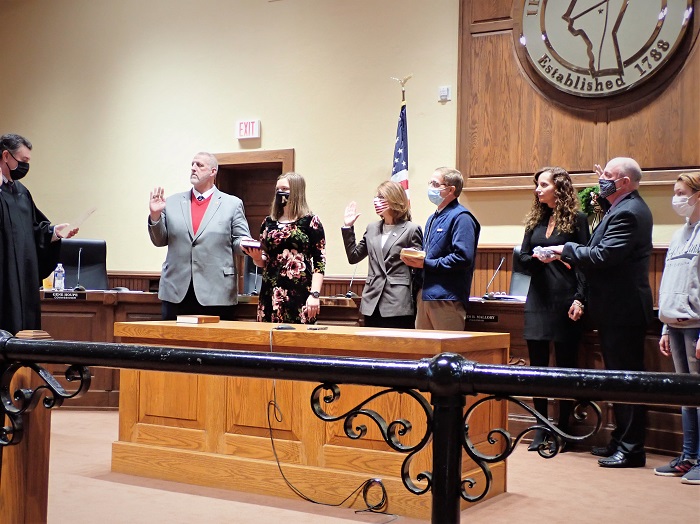 BY KARISSA MILLER
Two new members of the Iredell County Board of Commissioners were sworn in Monday along with returning Commissioner Gene Houpe, and Chairman James Mallory was selected to remain in that role.
Iredell County Superior Court Judge Joseph Crosswhite administered the oath of office to newly elected members Melissa Neader and Scottie Brown, who were elected to four-year terms in November, and Houpe, who won a two-year term.
The three commissioners promised to "faithfully and impartially" uphold city, state and federal laws and to execute the role of county commissioner to the best of their skill and ability.
Both Neader and Brown used family Bibles during their swearing-in ceremony.
Neader placed her hand on the Bible that belonged to her late mother, Nancy Guy. She said that it was special to share that moment in memory of her mom, who helped her become a strong person.
"We thought about it. We prayed about it," said Neader, who was accompanied by her husband Mike and children Nick, Eliza-Kay and Jennie. "I knew in my heart this is where I knew to be going. I knew the whole entire time with my campaign it was all centered around voters."
Brown, who held a Bible that belonged to his grandmother Estelle Brown when he took the oath, said he drove around the county government building three times searching for his parking space, which elicited laughter from the small crowd. He thanked elected officials Rep. Jeff McNeely and Sen. Vickie Sawyer for attending the ceremony.
"I am here to serve," Brown said. "There is not eight hours in a day. I'm here 24 hours a day," Brown said.
Brown's guests included his wife Kimberly and daughters Gracie and Sarah; his four grandchildren Ayla, Eli, Piper, and Harper; and his sister and brother-in-law, Tammy and Danny Russ.
Houpe said that it's an honor and privilege to represent the people of Iredell County. He was joined by his daughter, Hanna Houpe.
Houpe said County Manager Beth Jones and the county's administrative staff is second to none, citing their efforts during the pandemic.
He also thanked previous boards for laying the ground work for the current board.
The board meeting began with comments from outgoing board members Tommy Bowles, who served as vice chair, and Ken Robertson.
Leadership
The new board voted to re-elect Mallory as chairman.
He considers himself only the first among equals. He explained that the best teams are like a symphony and collaborate like a quintet.
"I want to thank all of the commissioners at this time for their continued confidence and support," Mallory said.
Neader, who received the most votes in the November election, was unanimously selected as vice chair.
Lisa Valdez also was retained as county attorney.
Photos