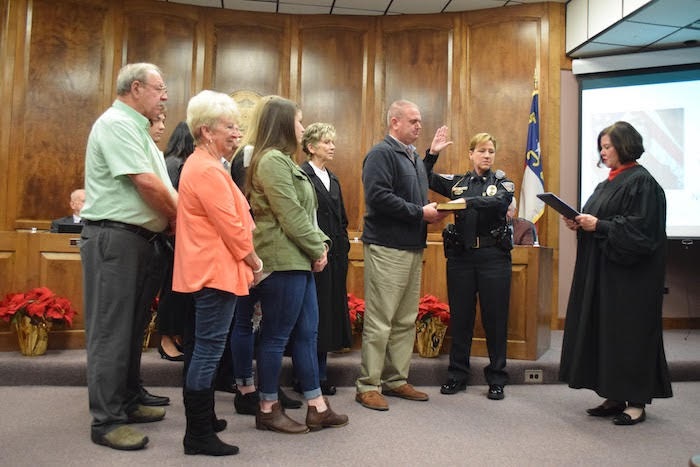 BY DEBBIE PAGE
debbiepage.iredellfreenews@gmail.com
Chief Tina Fleming is settling into her new role at the Troutman Police Department after 17 years as a part-time officer with the department.
Fleming, who was sworn in last month, feels a sense of accomplishment and pride as she assumes this post, breaking a barrier in a male-dominated profession after decades of hard work.
As the first female police chief in Iredell County, she is eager for other females, especially those she has taught or trained in various capacities throughout her career, to emulate her work ethic and values as they to move up the ladder because "nothing is given. You have to earn it."
CAREER INSPIRATION
An Ashe County native, Fleming was inspired to seek a career in law enforcement as a sophomore in high school. In a school club project, Fleming helped collect kids' hair, fingerprints, and personal information to create files for parents to help law enforcement in case their children ever went missing.
To help in the process, Fleming went to the Ashe County Sheriff's Department to learn how to properly fingerprint. She enjoyed interacting with the officers and hearing their accounts of helping people in the community.
"I learned that everything they did was to serve and keep people safe," said Fleming, stressing that officers were not coming from an authoritarian perspective.
For example, Fleming said that giving out a seatbelt citation can be viewed as a reminder to drivers about safety and part of an effort to protect them from injury in the event of a crash.
"People often don't look at the big picture of what law enforcement is really all about," she said.
INSTRUCTOR
Much of her recent career has been in the instructional realm of law enforcement. Fleming, who recently retired as director of Mitchell Community College's Basic Law Enforcement Training program, enjoys helping students and new officers learn to be safe, thorough, and meticulous in their work to ensure that their cases and testimony in court help crime victims get the justice they deserve.
Fleming continuously works with and meets former students who make her so proud as she sees them succeed in their careers and get positive accolades in the community. "I've trained some of the officers here, and it makes me happy to see individuals succeed," she said.
As she has progressed in her her career, Fleming vowed to never forget her roots as a patrol officer. She calls these officers the "backbone" and "heart" of every police department. Any rules, procedures, or requests that she makes always have the goal of making her officers' jobs better, safer, and easier as they make contact with the public, courts, or the media.
Fleming also will dedicate much of her time to ensuring officers' certifications are upgraded and maintained and that the Troutman Police Department is up-to-date with the latest procedures and policies to create a topnotch professional environment.
Though she acknowledges that she is rule and policy driven, Fleming values officers' input and the insights and experience of other agencies in the community from which her department can benefit.
COMMUNITY RELATIONS
Community members can expect fairness and honesty as Fleming seeks to build trust between all parts of the community and her department. "If they are breaking the law, I expect officers to enforce it. If they need help, they will extend the hand," she explained.
"Whether they agree with me or not, I want them to always see me as fair in my decisions," added Fleming.
To help prevent crime, Fleming wants to get to know business owners and community members and listen to their concerns. She is proud that her officers "already take the extra step to show their concern and offer advice" as they interact in the community.
Fleming also wants to collaborate closely with Parks and Recreation Director Emily Watson as Watson plans community events to create more opportunities for positive community/officer engagement. She is excited to tap into Watson's creativity and enthusiasm.
Working with kids is also important to Fleming, who hopes to get into local schools to read stories or do activities with students. Fleming believes that building positive relationships with elementary school-age students helps officers gain trust and build the relationships that will be helpful as the kids enter their teen years.
Acknowledging that the community's traffic concerns have no easy or quick solution, Fleming advises folks to exercise patience to avoid accidents from sudden stops, to be considerate of others and their safety, and to leave a bit earlier for extra time to get to their destination.
Fleming also will continue the bi-monthly Coffee With A Cop sessions at McDonald's, the annual National Night Out in August, and the Back the Blue 5K, which held its inaugural event this year.
DEPARTMENT GOALS
One of Fleming's top goals is to upgrade the electronic communications capabilities of her department and officers. She is already in talks with Candy Strezinski, Iredell County Director of Emergency Communications/911 director, about her concerns.
The department is also about to start a trial of Flock license tag readers to be placed in strategic locations in the community to help police collect evidence needed to track leads and solve property crimes in the area. She also hopes to upgrade the department's tasers in he near future.
School safety is also on Fleming's agenda. The school resource officers want to schedule training with all full- and part-time officers during off hours in the four schools in the Troutman jurisdiction to enhance their ability to respond to any public safety situations that arise.
Another K-9 officer will hopefully being added to the department soon as the donation process for another police dog is already under way.
CHALLENGES
With more neighborhood subdivisions being approved and new areas being annexed into the town, Fleming sees new strains on officers in the coming years. With the population expected to double and even triple, more cars will be on the road and more businesses will open to accommodate these new residents.
All these demands will increase costs and needs for police service, which will require more officers, patrol cars, and equipment.
With the assistance of former chief Matthew Selves, who still works for the department part time, Fleming hopes to write grants to help fund some of the department's future needs.
BACKGROUND
After receiving her Associate's Degree in Law Enforcement Technology at Forsythe Tech and completing Basic Law Enforcement Training (BLET) at Wilkes Community College, Fleming worked full time for 2.5 years at the Wilkesboro Police Department while completing her Bachelor of Science degree at Garner Webb University's Statesville location.
She went on to work at the Mooresville Police Department in 1993, serving for 10 years as a D.A.R.E. officer, patrol officer, and field training officer, eventually rising to the rank of lieutenant.
In 2003, Fleming left the MPD for the N.C. Department of Health and Human Services' Alcohol Branch. She trained officers in DWI forensic testing, taught classes for officers' certifications for various aspects of DWI enforcement, and maintained intoxilyzers for the 12 counties she oversaw.
Fleming moved into another instructional role in 2006, becoming Mitchell Community College's director of BLET. She officially retired from that position on January 1.
To maintain her law enforcement certification as she took on these instructional roles, Fleming began working part time with the Troutman Police Department in 2003, continuing that role until her current appointment as chief.
Fleming is married to husband Jason with whom she has two daughters, Grayson, 20, and London, 17.