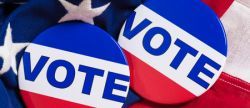 Special to Iredell Free News
One-Stop Early Voting for the March 3, 2020, Primary Election begins on Thursday, February 13, and runs through Saturday, February 29, at five sites across Iredell County.
SAMPLE BALLOT: Click HERE for a sample ballot.
For further information, contact the Board of Elections at 704-878-3140.