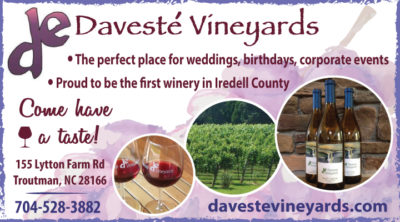 Delmonicos – Valentine's Dance
When: Friday, February 14, 8 p.m.
Where: VFW Post 2031, 139 Jordan Lane, Statesville
Details: The cupids from the DELMONICOS will celebrate Valentine's Day. Grab your fancy red dress or shirt and come celebrate with us. Doors open at 6:30 p.m. and music and dancing begin at 8 p.m. Beer and soft drinks can be purchased. Must be 21 to attend. Brown bagging for wine and liquor only.
Kisses for Canines Fundraiser for LKN Humane
When: Saturday, February 15, 1 to 5 p.m.
Where: Wagamuffins Dog Boutique, 152 N. Main Street, Mooresville
Details: Come join us for this fun fundraiser for The Lake Norman Humane. Stop by any time during the event, partake in the kissing booth with one of the adoptable dogs or your own. Make a gift basket that has fun items for both you and your pup. You will get to choose one item from Yappy Hour Bakery, one item from Wagamuffins Dog Boutique and one item from Sniff and Rescue Candles. Want your basket customized with your pups name on it? We have that option too. There will also be a raffle for some fantastic items. Adoptable dogs from Lake Norman Humane will be on site as well.
February Community Meeting
When: Saturday, February 15, 1 to 3 p.m.
Where: Bentley Community Center, 324 Wilmington Avenue, Statesville
Details: Statesville Police Department is hosting monthly community meetings every 3rd Saturday. The informal meetings will begin at 1 p.m. at different locations in the city. Everyone is invited and encouraged to join in taking part in the community meeting. The meeting begins at 1 p.m. and is scheduled for a two-hour block; however, if the discussion has concluded and all citizens that were in attendance leave the meeting will end early.
Polar Plunge for Special Olympics Iredell County
When: Saturday, February 15, 2 p.m.
Where: Statesville Leisure Pool, 1877 Simonton Road, Statesville
Details: Join us for the 2020 Special Olympics Iredell County Polar Plunge. Check-In begins at 1 p.m. with line up at 1:45 p.m. and the plunge begins at 2 p.m. Registration fee is $25 for registration only or $30 with a T-shirt. To register visit https://www.classy.org/event/2020-special-olympics-iredell-county-polar-plunge/e267554
Ulysses at Statesville Country Club
When: Saturday, February 15, 6 to 9 p.m.
Where: Statesville Country Club, 635 Deauville Road, Statesville
Details: Music concert with Ulysses.
2020 Statesville Bridal Expo
When: Sunday, February 16, 1 to 5 p.m.
Where: Statesville Civic Center, 300 S. Center Street, Statesville
Details: The Statesville Bridal Expo is one of the longest running bridal expos in the region. This is our 20th year bringing together the very best of wedding vendors in the area to give you all the ideas of how to create your perfect day. We also have a bridal runway show produced by Hitched Boutique and amazing prizes including a $750 cash prize and also a $250 cash prize along with all the door prizes from our awesome vendors. No need to preregister just come on out on February 16th from 1 – 5 pm and enjoy the day with us!
Auditions for The Music Man
When: Sunday, February 16, 6 p.m.
Where: American Renaissance Elementary School, 132 E Broad Street, Statesville
Details: Auditions for Theatre Statesville's The Music Man for anyone ages 9 and up. If you are auditioning for a named role prepare 32 bars of any song and bring sheet music. If you are auditioning for an ensemble role, you can sing "Happy Birthday." Please bring/wear appropriate shoes/attire.