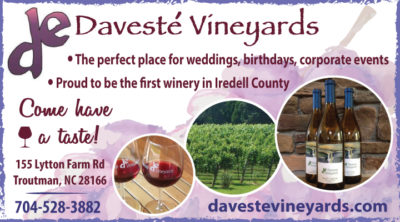 ElderCenter Bingo Night
When: Friday, January 24, 6 to 9 p.m.
Where: Elder Center, 502 Brevard Street, Statesville
Details: Great prizes and gift cards. Food and beverages will be available for purchase. Cards
are $5 each or 5 for $20. Proceeds Benefit the Elder Center. For more information call,
704-873-0720.
BINGO For Books
When: Friday, January 24, 5 to 7 p.m.
Where: Shepherd Elementary School, 1748 Charlotte Highway, Mooresville
Details: Great books and treats for everyone. Cards are $1 for 3 single-play bingo. Drinks and snacks will also be $1 and there will be Shepherd Spirit Wear discounted $5. There will be a 50/50 raffle and books for every winner. You will get a free bingo card if you wear your Shepherd Spirit Wear. RSVP by emailing shepherdptonc@gmail.com. RSVPs are not required to attend. The event will be held in the cafeteria.
Winter Juried Exhibit Art Show Reception
When: Friday, January 24, 6 to 8 p.m.
Where: Mooresville Arts, 103 W. Center Ave, Mooresville
Details: Refreshments and snacks will be served and this event is open to the public. The Winter Juried Exhibit is covering the gallery with pieces hand selected by this years Juror, Aimee Perry. Awards will be announced. This event is free.
New Moon Lunar Gathering
When: Friday, January 24, 7:30 to 9 p.m.
Where: Light House Spiritual Center, 645 Carpenter Avenue, Mooresville
Details: Each gathering will include: a personal energy clearing, guided meditation, intention setting, space for sharing, prompted journaling and ceremonial closing. Cost is $20 and participants are asked to bring a journal. For tickets visit www.lighthousespiritualcenter.com
Music with Jeff Brown
When: Friday, January 24, 7 to 10 p.m.
Where: Davesté Vineyards, 155 Lytton Farm Road, Troutman
Details: Jeff Brown will perform classic music from every genre and era. This event is free and open to the public. Wine, craft beer and a variety of sodas available for purchase. The event will take place in the climate-controlled Pavilion. Picnic baskets and crockpots are allowed.
Vinyasa Yoga
When: Saturday, January 25, 8:30 a.m.
Where: Troutman Park, 338 North Avenue, Troutman
Details: Students will build strength flexibility and balance while cultivating a joy in their practice that they can take with them off the mat and into other aspects of their life. Hosted by Iredell County Parks & Recreation every Saturday.
Educators With A Cause Fundraising Concert
When: Saturday, January 25, 6:30 p.m.
Where: Mac Gray Auditorium, Statesville High School, 474 N. Center Street, Statesville
Details: Educators from throughout Iredell-Statesville Schools will take the stage and perform hits from the 1960s, 70s and 80s. All proceeds will go to the newly-formed Iredell-Statesville Schools Education Foundation whose funds will be used to support ALL schools in I-SS. Tickets cost $10 and can be purchased at the door or in advance HERE
Robert Burns Night '20 at The Sharpe House
When: Saturday, January 25, 6 to 11 p.m.
Where: The Sharpe House, 402 S. Center Street, Statesville
Details: Celebrate Scotland's National Poet, your own Scottish ancestry, or just because you love his prose, the country and their music. The evening will begin with a bag piper who welcomes you into the house. Authentic Scottish cuisine will be served, including samples of the ceremonial Haggis, after its ceremonial Piping In. Live music will be provided by Veda Bafford and Celtic Echoes. Libations, both alcoholic and non for toasting are for all those who attend. Dinner choices include beef, vegetarian, or salmon. Tickets range from $45 to $55 to $65 depending on beverage choices. Tickets must be purchased by Friday, January 24, by 3 p.m. To purchase tickets, visit www.eventbrite.com
Iredell Arts Council Member/Sponsor Event
When: Saturday, January 25, 7 to 8:30 p.m.
Where: Iredell Arts Council, 203 S. Meeting Street, Statesville
Details: 2020 program to thank Sponsors. Members will have the opportunity to purchase any/all concert tickets. A raffle will be held and light food and drinks served. Membership may be purchased by visiting www.iredellartscouncil.org/membership. Memberships may also be purchased that evening.