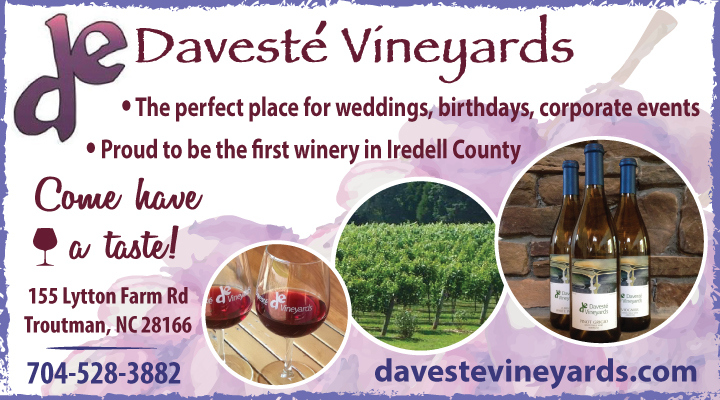 Music with John E Hall
When: Friday, January 3, 7 to 10 p.m.
Where: Daveste Vineyards, 155 Lytton Farm Road, Troutman
Details: Known by man as a "One Man Band," John E. Hall performs live at Daveste Vineyards Pavilion. No cover charge. Wine, craft beer and a variety of sodas will be available. The pavilion is a curtained and climate controlled space but seating is limited and fills up fast.
Statesville Zodiac Dance
When: Friday, January 3, 8 to 11 p.m.
Where: VFW Post 2031, 139 Jordan Lane, Statesville
Details: Friday Night Dance open to the public. All are welcome.
Christmas Wonderland of Lights
When: Friday, January 3, and Saturday, January 4, 6 to 10 p.m
Where: Zootastic Park, 385 Oswalt Amity Road,Troutman
Details: Come and enjoy the last two days of the season. Admission is $8 per person ages 2 and older. Admission includes drive thru Wonderland of Lights, Reindeer Forest, and walk around part of the zoo.
A Better You Run Club
When: Saturday, January 4, 9 a.m.
Where: Sky Mountain Coffee, 110 W Broad Street, Statesville
Details: Join in every Saturday for a 1-, 3-, or 5-mile run (or walk) around downtown Statesville. Open to all fitness levels.
Happy Tails Rescue Adoption Event
When: Saturday, January 4, 11 a.m. to 3 p.m.
Where: Petco, 611 River Highway, Mooresville
Details: Come out any time Saturday to meet your "Forever Best Friend" dogs and puppies available for adoption. All dogs will be spayed/neutered, microchipped, UTD on vaccines, on heartworm prevention.
Concert for a Cause: Riley B. from The Voice
When: Saturday, January 4, 7 to 10 p.m.
Where: Langtree Plantation, 554 Langtree Road, Mooresville
Details: Concert with Riley Biederer and her band to support the Mooresville Soup Kitchen. Tickets are $50 per person and include, appetizers, dinner, live entertainment, dessert, silent auction and raffles. For more information or to purchase tickets visit www.mooresvillesoupkitchen.com