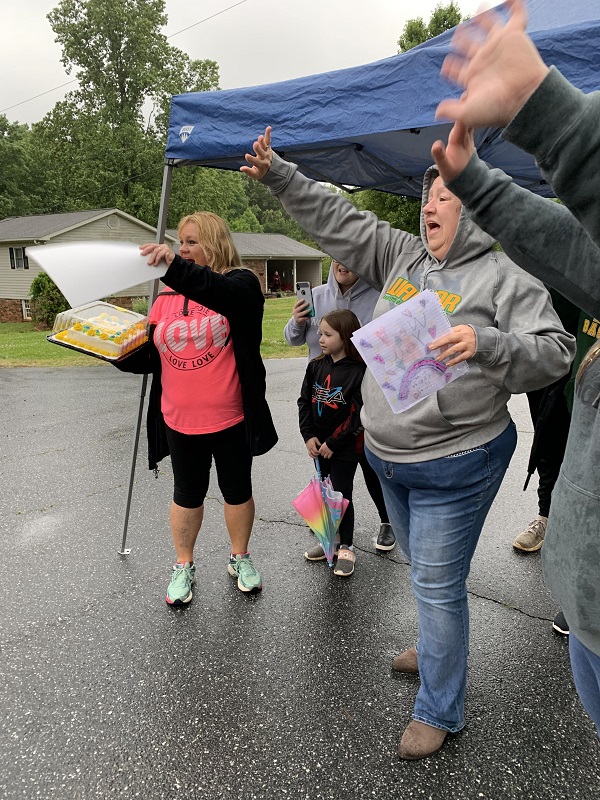 BY BRANDY TEMPLETON
Friends came from far and wide on Tuesday to congratulate Barbee Ervin as she begins her retirement.
About 50 vehicles departed from the parking lot at Mountain Road Baptist Church for a drive-by parade outside Ervin's home at 6:30 p.m. An Iredell County Sheriff's Office deputy led the way and dozens of participants displayed signs and colorful balloons showing their appreciation and love for a woman who has shown lots of love to so many over the years
Due to the COVID-19 pandemic, Ervin didn't get to say goodbye to students, teachers and friends at Celeste Henkel Elementary School in the manner she hoped.
For over 30 years she has been a constant at the school. Whether it was driving a bus, helping teachers, coaching softball, or helping with Prime Time and summer care, Ervin was dedicated to the children.
"I know kids that are 40 who I've driven for, taught, or coached ball for," Erwin said. "I poured my heart in it. I invested in it."
Celeste teacher Laura Caldwell said she was sad Erwin is leaving and holds out hope that she might change her mind.
"Barbee is the heart of our school," she said. "She's a lot of the glue that holds things together. Barbee loves all the kids — she takes them under her wing."
Ervin was surprised to see some of those kids, their parents, and teachers drive past her home honking and yelling cheers for her.
Daughters Tiffany Elmy and Becky Kitchens, along with friend/co-worker Danette Sigmon pulled the parade together.
Kitchens tried tricking her mom to come outside and look at some non-existent "teacher gifts" she had in her car, but Ervin thought Kitchens was taking her shopping.
"I thought I was coming outside to go shopping at Dick's," Ervin said, laughing.
When she noticed blue lights and Elmy's car, she told Kitchens, "Let's go see what's going on— There's Tiffany. They've pulled her over."
As the stream of cars started flowing, Ervin quickly caught on— and her eyes teared over as she thought about her friends and students.
Flowers, gifts, and signs were handed out of car windows as people shouted, "We love you!" and pom poms were waved.
Between thanking people and virtual hugs, Ervin shared some of her greatest memories at Celeste.
"Being able to share the love of Christ and the comraderie we built with each other," she said.
One thing she's not going to miss is waking up early.
"I'm not going to miss waking up at 5 a.m. to drive a bus," she said.
She's not quite sure if she's going to totally give it all up yet.
"I may plan on subbing for the West cluster," Ervin shared.
In the meantime, she plans to stay busy with her family, which includes five children, 11 grandchildren, and one great- grandchild.
She also plans to do home repairs and start on her bucket list.
"My bucket list item is Alaska. Who goes there? Not everybody has that chance," she said. "And Hawaii."
Even though her trip to Alaska will be rescheduled because of the pandemic, Ervin is not upset. She's grateful for all the years and memories that fill her heart.
And she's confident in her decision to start a new chapter in her life.
"It's the right time to go," Ervin said. "I prayed about it and have made peace with it."
Photo Gallery