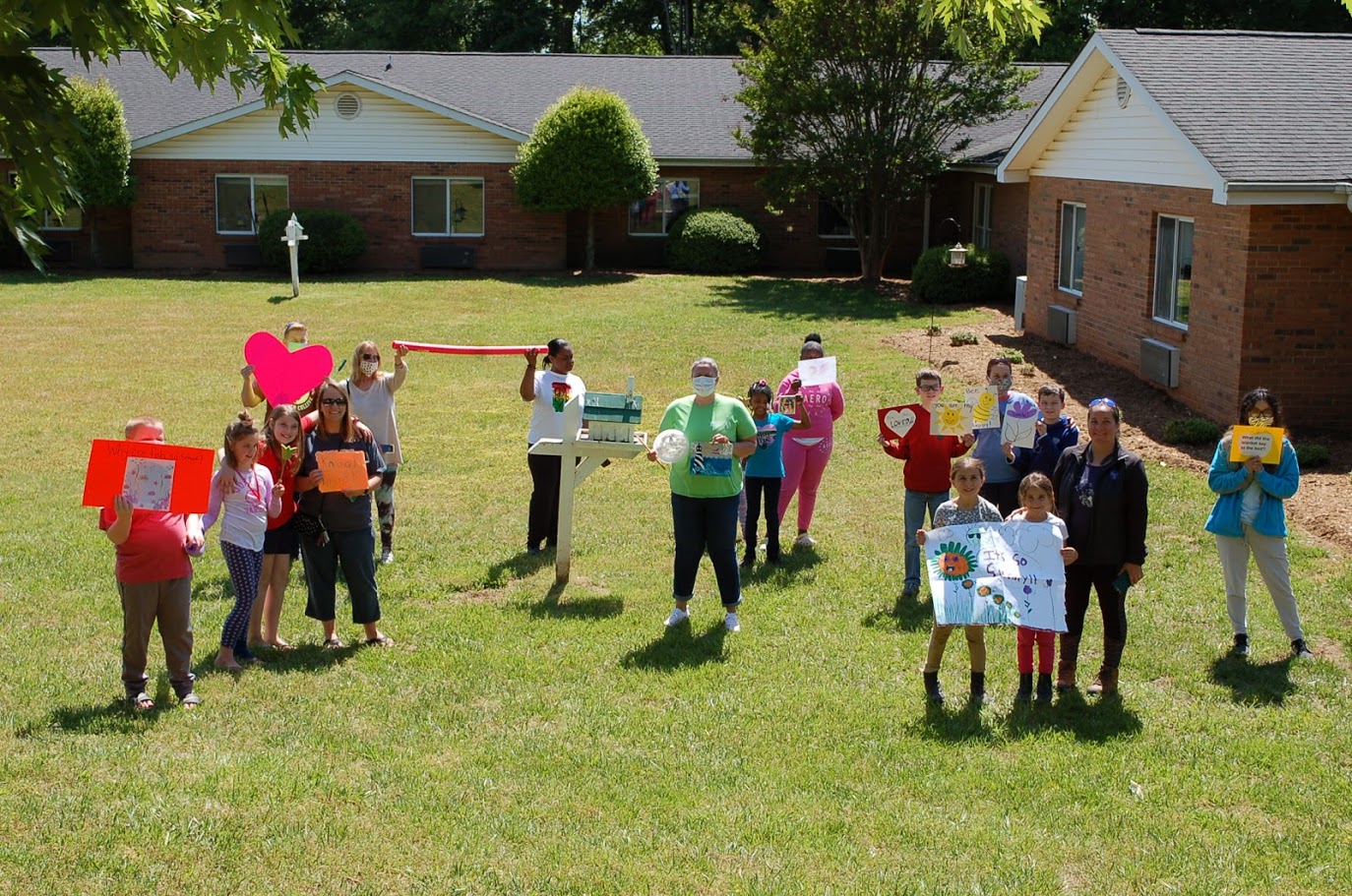 BY DEBBIE PAGE
debbiepage.iredellfreenews@gmail.com
Teachers Diana Schnebelt and Jenny Todd, along some of their second-grade students from Scotts Elementary, shared smiles and handmade gifts with residents of Maple Leaf Health Care and Autumn Care of Statesville on Tuesday afternoon.
The students, who were joined by siblings and parents, met their teachers at the facilities and used pool noodles to help them maintain social distance. They carried artwork, flowers and painted rocks to share with patients and employees to brighten their day.
"The students do so much with trying to collect things," said Schnebelt. "We like to do pennies throughout the year for pets, and we also do something with foster animals or the animal shelter, and since we cannot do that right now, they wanted to do something for people that cannot get out, especially with the COVID situation."
Schnebelt connected with Maple Leaf through a parent who works there and she knew staff at Autumn Care from her father's stay, so she utilized these contacts to arrange the outing to help her students learn about community service.
The student wrote jokes and illustrated them as part of their English curriculum, drew pictures of animals, butterflies, the sun, and clouds as part of the science lessons, and created art out of geometric shapes as part of a math unit. Along with painted wooden flowers, the students also signed small painted and decorated blocks to leave as colorful mementos.
Maple Leaf employee Ruby Holt led students around the facility as they carried their creations to patients' windows, displaying their efforts and talking with the residents through the glass. They also sang some songs to entertain them.
Second-grader Myla McLain and her fourth-grade sister Maggie, bearing vases of flowers, came with mom Amanda, who thought the activity was great. "Some of these people do not get visitors at all, and we obviously cannot go in and see them, but hopefully we can bring a little sunshine."
The girls wanted the silk flower arrangements to be given to someone who does not get many visitors or did not get flowers for Mother's Day.
Todd said that the visit gave them something to look forward. "Even though we don't know anybody here, it's spreading happiness not only for us but for those who haven't had visitors for a while," she said.
Todd's sons also participated in the visit. The service project pushed her fourth-grader Hayden and sixth-grader Mason to get out of their comfort zone, she said.
Cooper Wheeler, with mom Christine, brought along his illustrated joke and enjoyed waving to the residents.
Kylie Dobbins, with friend Quemari Willis, brought her picture of a butterfly, which she learned about in Schnebelt's classroom as they hatched the insects from cocoons earlier this year.
At Autumn Care, Activities Director Tonisha Daniels led the kids to patients' windows and outside social rooms where residents were gathered to enjoy the students' visit. "It means a lot because a lot of them do not get to see their families, and when visitors come, it brings them joy, it brings them light, that somebody does care."
"They feel like they're not alone and just shut up. It makes them feel good, especially to see the babies," added Daniels, smiling as she watched the enthusiastic students connected with her residents.