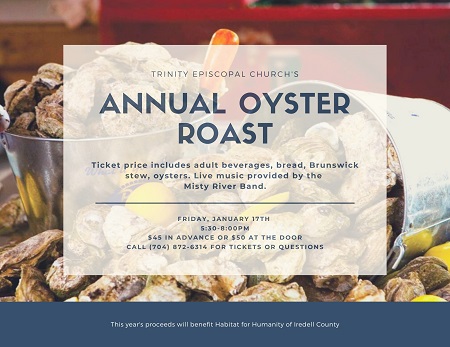 Special to Iredell Free News
Trinity Episcopal Church will hold its 19th Annual Oyster Roast on Friday, January 17, from 5:30 to 8 p.m. in the church's parish hall.
The net proceeds from the oyster roast are donated to a local non-profit organization. This year's proceeds will be donated to the Habitat for Humanity.
The public is invited to attend. Ticket prices are $45 per person in advance or $50 at the door. The price includes steamed oysters, Brunswick stew, salad, desserts, adult beverages, tea , soft drinks and music by the Misty River Band.
Tickets can be purchased from the church by calling (704) 872-6314.
The church is located at 801 Henkel Road, Statesville.