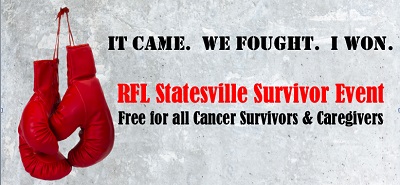 FROM STAFF REPORTS
SBK Boxing Club invites cancer survivors and their caregivers to the club's "Knock Out Cancer" event on Saturday, February 29.
Organizers promise "a fun, life-affirming celebration of our local community members who have won the fight of their lives."
The event, scheduled for 1 to 3 p.m., will offer fun boxing-themed fitness stations, photo ops and a chance to learn about Relay for Life and connect with other survivors.
SBK Boxing Club is located at 322 Signal Hill Drive in Statesville.
LEARN MORE
Click HERE to learn more or call (704) 553-5394.