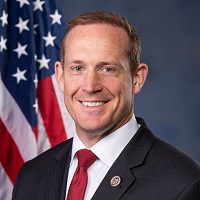 Special to Iredell Free News
Rep. Ted Budd (NC-13) announced Tuesday that a $2.3 million U.S. Department of Agriculture (USDA) grant has been awarded to the State of North Carolina through USDA's ReConnect program.
The funding was awarded to the Yadkin Valley Telephone Membership Corporation, which will use the ReConnect grant to connect over 5,600 people, 67 farms, and 18 businesses to high-speed broadband internet in Davie, Yadkin and Iredell counties.
Rep. Budd sent a letter requesting the grant on April 27, 2020.
"Helping more folks access broadband internet has become a necessity for thousands of North Carolinians during the COVID-19 pandemic," Budd said in a news release. "That's why I'm so proud that our state received this grant, so that people can continue to live their lives, operate their businesses, and educate their children. I'd like to thank USDA and other members of the North Carolina congressional delegation for their work to get this grant across the finish line."