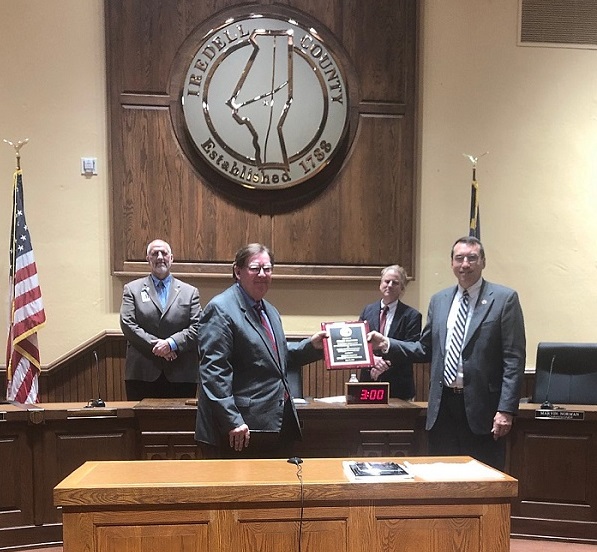 BY KARISSA MILLER
Iredell-Statesville Schools Superintendent Brady Johnson has helped shape the minds of students throughout the county by offering a variety of school choice options and he has helped clear a path for future students to reach their potential in new school facilities.
Those were just some of the accomplishments touted by the Iredell County Board of Commissioners during Tuesday's board meeting as they recognized Johnson's contributions during his 42-year career in education.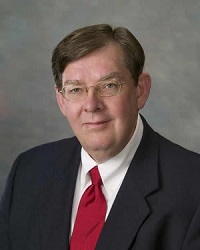 Johnson, a lifelong Iredell County resident, will retire on June 30. He worked his entire career in Iredell County and is completing his year as superintendent.
Commissioner Ken Robertson spoke about the time Johnson went around the community discussing the need to get technology into the hands of each student.
The superintendent, along with school system leadership team, helped deploy the 1:1 laptop initiative that allowed each middle and high school student to receive a device to take home for assignments.
"I remember all the people who thought, 'This is crazy. Those kids don't need computers. I didn't have computers when I went to school,' " Robertson recalled.
"Holy cow! COVID-19! What would the options have been if our children wouldn't have been able to work remotely?" he asked. "We owe you a lot of thanks."
Robertson also described Johnson's easy-going mannerism. He pointed out the superintendent's ability to articulate his concerns without pointing an accusatory finger.
He also spoke about the superintendent's efforts in helping the high school construction bond pass this year. The new school will increase capacity in the southern end of the county where there is overcrowding and anticipated future growth.
"The students who will benefit from the high school might not know your name, but it was on your watch," Robertson said.
Commissioner Gene Houpe, who serves on the county's education task force, also praised Johnson for increasing minority leadership in the central office. The superintendent wanted the leadership team to reflect what the classrooms looked like across the county as well.
Johnson also worked to integrate faith-based organizations in the community into the schools. These organizations, Houpe said, help students have clean clothes and provide them with other resources to be successful in their learning.
"In some cases, people say, 'You were too nice.' We could all learn from that," Houpe added.
Chairman James Mallory thanked Johnson for his tremendous leadership. He presented him with a plaque after the board voted unanimously to approve a proclamation in his honor.
Mallory read into the minutes the proclamation, which reads as follows:
Resolution of the Iredell County Board of Commissioners
WHEREAS, On June 30, 2020, Brady Johnson, Superintendent, will retire after serving Iredell-Statesville Schools since September 1978;
and WHEREAS, upon graduating from South Iredell High School, Mr. Johnson received an associate's degree from Mitchell Community College, Bachelor of Science in Social Studies from Appalachian State University, and a Master of Arts in Education Leadership from Gardner-Webb University;
and WHEREAS, Mr. Johnson began his career with Iredell-Statesville Schools in 1978, first as a teacher then Assistant Principal and Principal before being named Deputy Superintendent in 2006, and in 2009, he was appointed Superintendent;
and WHEREAS, Mr. Johnson's great success as chief administrator earned him the title of A. Craig Phillip North Carolina Superintendent of the Year in 2014; and in 2015, he served as the superintendent advisor to the North Carolina State Board of Education;
and WHEREAS, thanks to Mr. Johnson's encouragement, the district embraced the school choice movement and offers parental choice options including Spanish Dual Immersion, International Baccalaureate, Early College, STEM Themed Schools, and an A+ Arts Integrated Magnet School as well as options for students in the area of career and technical education;
and WHEREAS, in addition to his professional career, Mr. Johnson has served on many community-based agencies; and named Statesville Citizen of the Year in 2016; and the 2018 Outstanding Citizen of the Year by the Gemstone District, Piedmont Council Boy Scouts;
and NOW, THEREFORE, BE IT PROCLAIMED that the Board of Commissioners of Iredell County takes great pleasure in recognizing Mr. Johnson for his invaluable contributions to Iredell-Statesville Schools. Adopted this 16th day of June 2020.