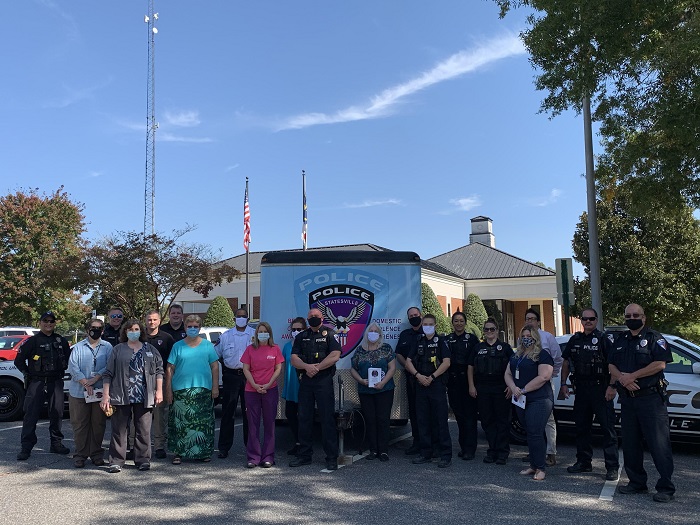 BY BRANDY TEMPLETON
Statesville police officers are taking a stand for Domestic Violence Awareness and Breast Cancer Awareness wearing pink and purple badges.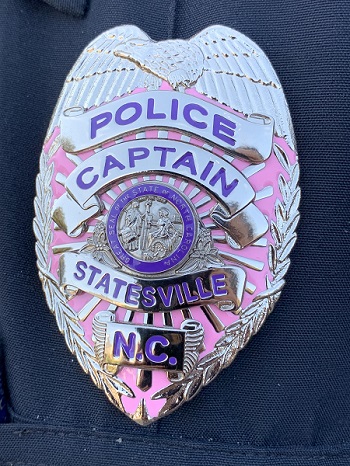 Officers were joined by representatives of Fifth Street Ministries, Iredell Health System and Davis Regional Medical Center on Thursday as they showed their support for both causes. Officers are wearing pink and purple badges throughout October.
SPD Chief David Addison said that his department has seen a rise in both aggravated assault and domestic violence during the COVID-19 pandemic.
"People are at home more," Addison explained. "Instead of six to eight hours being away from home everyday, people are home for 24 hours now. Some are not able to deal with the stress of not socializing or the economic stress of being out of work."
SPD officers "show support to everyone going through hard times, especially with the financial impact during COVID-19," the chief added.
"We support you," Addison said. "And we will continue to support you."
Patti West, executive director of Diakonos/Fifth Street Ministries, said that My Sister's House is available for those suffering domestic violence. The house is typically at about 80 percent capacity.
West said the Domestic Violence Task Force is committed to addressing the problem.
"We have 40 representatives from law enforcement, churches, and other agencies that meet monthly," she said. "We try to rework problems with gaps in services and talk about other problems."
Domestic violence statistics fluctuate in Iredell County slightly from year to year but generally remain consistent, West said. However, during the past couple of years, more men have reported being the victim of domestic violence and utilized community services.
"Our services are available for both women and men," she said.
West said many victims of domestic violence do not feel safe reporting abuse during the pandemic, leading the statistics to be deflated.
"They can't be accurate because some people are not reporting due to dependence on others during the pandemic," she said.
Pam Navey, the community resource coordinator with Statesville Police Department, said that people have got to get past the shame and guilt of domestic violence.
"Silence hides violence," she said.
As for Breast Cancer Awareness Month, Meredith Ballard, the mammography supervisor at Iredell Health System, encourages every woman 40 and over to get a mammogram.
"Early détection is key," she said. "We have 3D imaging now and it's better because it helps prevent callbacks. We can detect some cancer before you can feel it."