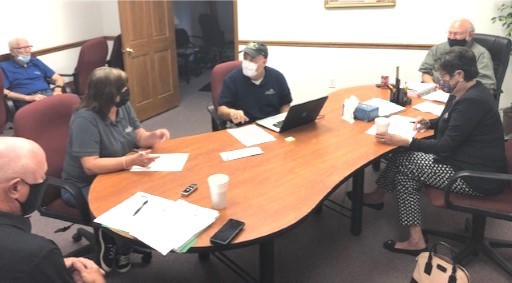 Special to Iredell Free News
The Statesville ABC Board has announced the recipients of this year's Educational Grants.
The following agencies received a share of the $71,500 total contribution:
♦ Aftershock Youth Empowerment;
♦ Boys and Girls Club of the Piedmont;
♦ Fifth Street Shelter Ministries;
♦ Iredell County Emergency Medical Services;
♦ Community Response Support Team[
♦ Piedmont Mediation Center; and
♦ Pharos Parentings (formerly SCAN of Iredell).
Each year, the Statesville ABC Board receives requests from local agencies involved in the assessment, intervention, treatment and referral of alcohol and drug related issues in the community.
The board then interviews the agency representatives to hear more about their programs before making a decision.
"We believe it is extremely important for the Statesville ABC Board to support the programs that help with and prevent substance abuse," said Statesville ABC Chairperson Ron Matthews. "We are proud of these organizations and the work they do in our community."
SMART Moves is one of the programs funded by the ABC Educational Grant. Sponsored by the Boys and Girls Club, the program engages youth in fun and educational activities that illustrate the risks involved in using alcohol and/or illicit drugs.
"The program uses a team approach to help elementary and middle school students engage in discussion, role-playing, practicing resilience and refusal skills, developing assertiveness, and many other decision-making skills," explained Clarissa Flowers Young, executive director of the Boys and Girls Club. "It has made such a great decision in so many lives."
The EMS Community Response Team is able to offer support to individuals and families impacted by substance abuse issues.
Sandy Tabor-Gray, a Certified Peer Support Specialist (CPSS) for the program, shared the story of a client who, after multiple encounters with EMS, continued to refuse assistance from the Community Response program. The CPSS was able to provide support to the family, however, "letting them know they were not alone, and providing educational materials about the disease of Alcoholism, its effect on the family and possible resources."
Eventually, this individual did reach out to the CPSS, who arranged for treatment and a place to live once he completed the program.
Today, he "is gainfully employed, mending relationships with his family, and reaping the rewards that come from living in recovery, one day at a time," said Tabor-Gray.
"The ABC Board is very appreciative of the work these organizations do to help with and prevent substance abuse issues," said Tip Nicholson, general manager of the Statesville ABC Board. "The board is diligent in running an efficient operation so that we can put money back into the community."