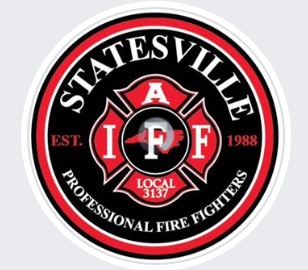 Special to Iredell Free News
It's not unusual to see your Statesville fire fighters checking smoke alarms or fire hydrants to make sure you are safe.
But for the members of the Statesville Professional Fire Fighters Association Local 3137, there's a lot they do that you may not realize to make Statesville a safer and better community.
Throughout the year, members of SPFFA raise money and collect donations for numerous area organizations. Already in 2020, SPFFA had donated $500 each to Iredell Christian Ministries, Yokefellow, Power Cross and Matthew 25 Ministries for a total donation amount of $2,000.
"As fire fighters, it's our duty to serve and protect our community in dangerous situations," SPFFA President Justin Elam said. "But we also feel a need to serve our community in other ways. By raising funds, we are able to support various community needs and organizations that serve deserving families of the Statesville community.
"I'm proud of our members that step up with not just their time, but own money, to give back to the community that we serve and protect."
SPFFA will continue its fundraising efforts throughout the year to continue to give back to Statesville.
Photos