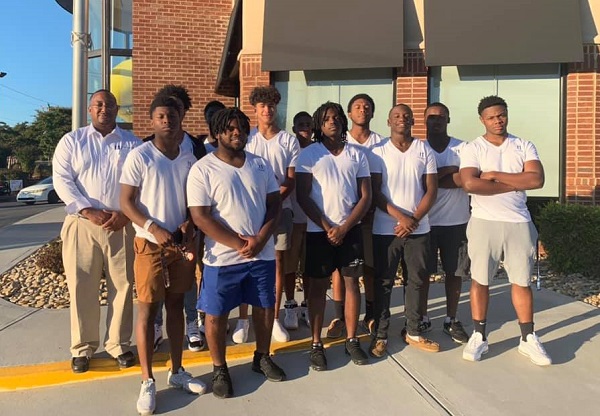 BY KARISSA MILLER
Statesville High School teacher Shadrach Martin is hoping to use his life experiences to show students a path to a successful future.
A former U.S. Marine, Martin is the founder of A Few Good Men, a leadership club for male students at the school.
"I knew that the young men here needed a positive and consistent male role model," Martin said. "One of the important things is them knowing that they can do something beyond what their family has done to break generational cycles."
The club, which began in January 2018 with seven members, has more than 40 members.
New members fill out surveys when they join the club. The survey includes questions about their plans after high school.
The club takes trips to visit colleges and Martin frequently discusses options the students have after graduation.
Additionally, students participate in community service activities, learn about professionalism, and enjoy homecooked meals. They learn about a proper handshake and wear ties on designated "dress up days."
Junior Joshua Agnew said the club has helped him become a better person.
For Keandre Watts, a sophomore, being part of the club has been a great experience. He's learned about responsibility and leadership.
While A Few Good Men is just for male students, a similar program for female students started at the school last month.
Martin said he plans to apply for 501(c)3 status for the club so that he can apply for grants and pursue other funds available to nonprofits. For now, he is funding the club with his own money.
He wants all students to know that if they decide to put their mind to something, they can do it.
"I want them to know that they don't have to go college to be successful or be a pro basketball or football player. I want them to know that they can also go to college for free for academics, and there's other options out there," Martin explained.
He is looking to form community partnerships and is continuing to try and create a more positive perception of Statesville High.
LEARN MORE
Businesses, organizations and individuals that are interested can contact Martin at shadrach_martin@iss.k12.nc.us.