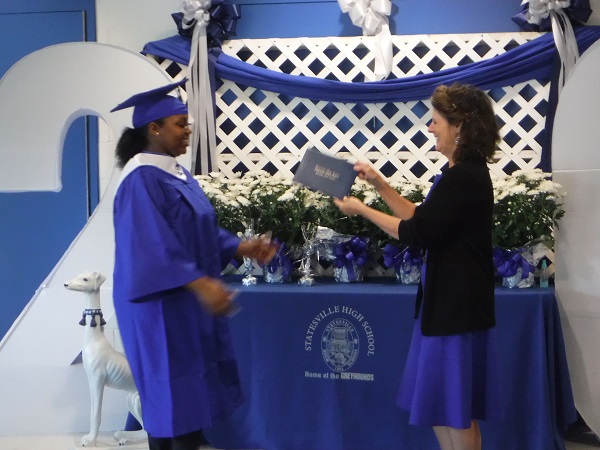 BY KARISSA MILLER
Determination can yield great results. Just ask the members of Statesville High's Class of 2020.
The 236 graduates conquered many obstacles to earn their diploma, including a student that lost her mom at the beginning of the year, remote learning challenges and other setbacks.
Due to the COVID-19 pandemic and social distancing guidelines, the school held a drive-up graduation ceremony on Wednesday and Thursday. The school's traditional ceremony will take place in August.
Approximately 68 graduates took advantage of the drive-up pomp and circumstance ceremony on Wednesday and 20 students stopped by within the first hour on Thursday.
"It feels like I'm getting ready to enter the real world," said Anthony Parks, 18.
Anthony's mom, Jamaica Parks, and dad ,Anthony Wilkes, stood proud as they watched his ceremony unfold Thursday.
"We are appreciative that they stepped out of the box to just give them a chance to walk across the stage," his mom said.
Statesville's custodians, members of the guidance department, main office and teachers helped with the ceremony. They waved pom-poms and cheered for each student as they entered for their individual ceremony.
Principal Sheila Jenkins said that she is proud of what the students have accomplished.
"It's a great group of seniors. Some of them have worked exceptionally hard to make sure they could do this. We've had some that have cried — parents and students," Jenkins said.
"Whenever they say, 'Once a Greyhound, always a Greyhound,' these kids and these families live it. And it means something for them to graduate from Statesville High School," she added.
Jenkins said that the ceremony wasn't just centered around the student, but the entire family. She said in some cases the parents worked just as hard as the student, pushing their child to cross the finish line.
Jenkins also mentioned that there were some seniors that were set to graduate after passing exams before spring break.
"We had some seniors who still continued to work," Jenkins said, "knowing that none of it would count towards their GPA (grade point average)."
Students also received yard signs, which were donated to the school, their prom cup filled with candy and other items.
Photo Gallery