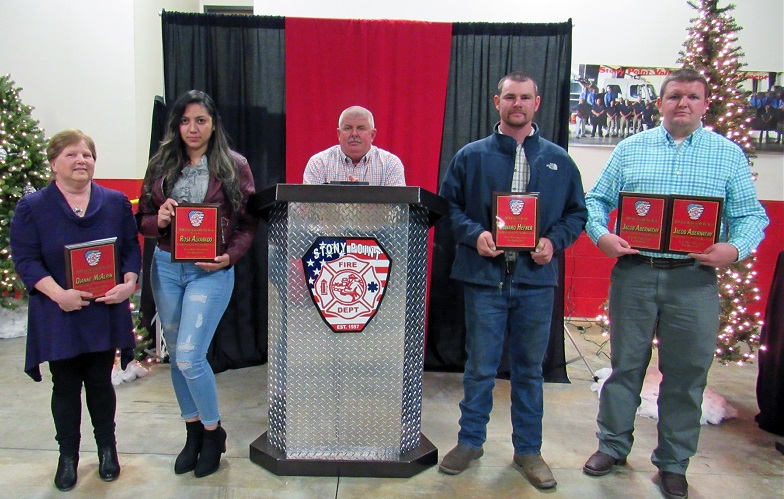 Special to Iredell Free News
During its recent annual banquet, the Stony Point Volunteer Fire Department honored firefighters, medical responders, ladies auxiliary, the Board of Directors and special guests. A slideshow representing SPVFD activities from the past year and a video of SPVFD members responding to calls were shown during the event.
Award winners for the 2019 year included:
♦ First Responder Award: Captain and Training Officer Jacob Abernathy;
♦ Firefighter Award: Rosa Alvarado;
♦ Officer's Award: Captain and Training Officer Jacob Abernathy;
♦ Chief's Award: Edward Hefner; and
♦ Ladies Auxiliary Award: Treasurer Dianne McAlpin.
Certificates for "Years of Service Recognition" were also presented to SPVFD Board members for their years of service to Roger Lackey (5 years), Nate Dalton (10 years) and Randy Dellinger (30 years).
SPVFD Firefighters honored for their service were Tyler Stafford (5 years), Justin Combs (10 years) and Ray Pope (15 years). SPVFD Ladies Auxiliary members honored for 10 years in the department included Geraldine Dalton, Janet James and Dianne McAlpin.
SPVFD bookkeeper Donna Cockrell, was also thanked for her time and dedication to the department.
Also remembered was SPVFD founding member, former Chief and Board of Directors member Carlton Crouch, who passed away in 2019.
Additional thanks was given to all those who have shown love, support and dedication to SPVFD and to the community during events from the past year. The department can only do what we do with the support of local businesses and community volunteers.