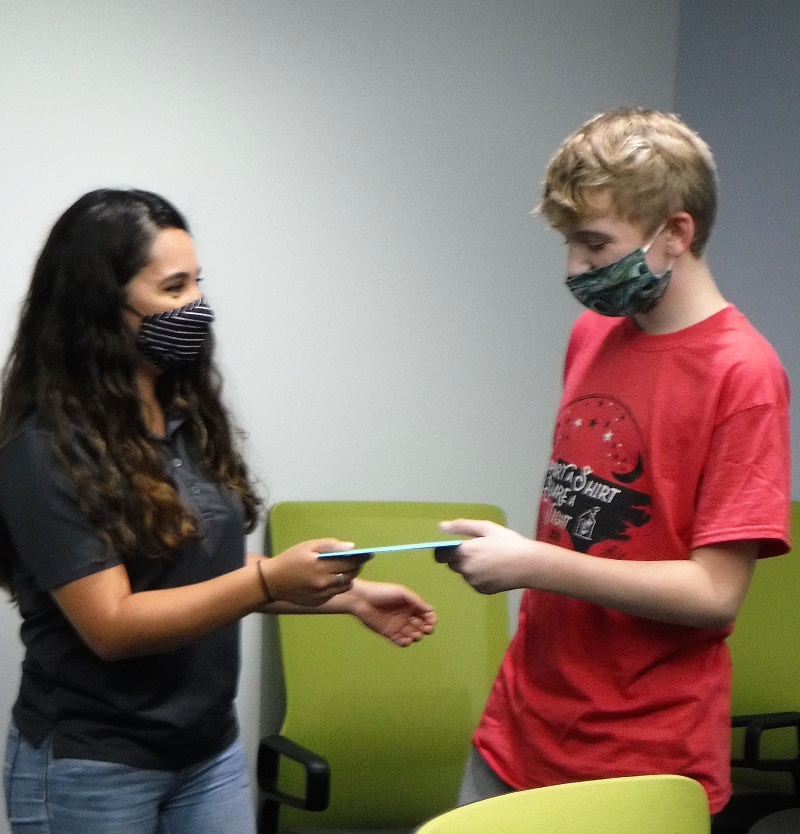 BY KARISSA MILLER
A 14-year-old boy who was trapped by a fire in his home was united on Thursday with the Iredell County telecommunicators, firefighters and EMS personnel who helped save his life.
Donny Wills was the guest of honor at the Iredell County Public Safety Center. He was recently released from Brenner Children's Hospital after being in a coma and on life support following a house fire.
The teen does not recall all of the details about the fire that left him seriously injured and hospitalized for a month.
However, Donny does remember his pets. His cat and hamster died in the fire.
"The firefighters were super nice, and they got me a new hamster, a new cage and everything," he said.
Firefighter and Assistant Fire Marshal Josh Levan said some of the other firefighters were unable to make it to Thursday's event, but will celebrate his recovery with a cookout in the future.
"We're excited for you. This is something we don't get to celebrate often. You made it possible. You laid there, you fought, I'm proud of you," Levan said.
He then introduced his family to Emergency 911 Telecommunicator Cinthia Rios, who answered his call on September 21.
Levan explained that it was a multiple-agency response, and he took time to make sure Wills knew who all was involved.
"It blew my mind to listen to the information you were given. Aside from you staying calm, you receiving lifesaving instructions (from Rios) and the fire department responding quick … it all came together," Levan said.
Rios said that she was able to remain calm on the phone that day by putting herself into Donny's shoes and thinking of how she would feel in that situation.
"It's amazing to know she helped me. She's one of the reasons I'm still here," the teen said.
Donny also met fire dispatcher Rachel Dufault and EMS dispatcher Lashreca Harrison, who were working that day. Their quick thinking and resourcefulness also contributed to the happy ending.
"It is really rare for a dispatcher to meet the person she helped save," said Emergency Communications Director Candy Miller.
"It shows them that what they do really makes a difference. I'm really happy for them and that they got to see a positive outcome," she added.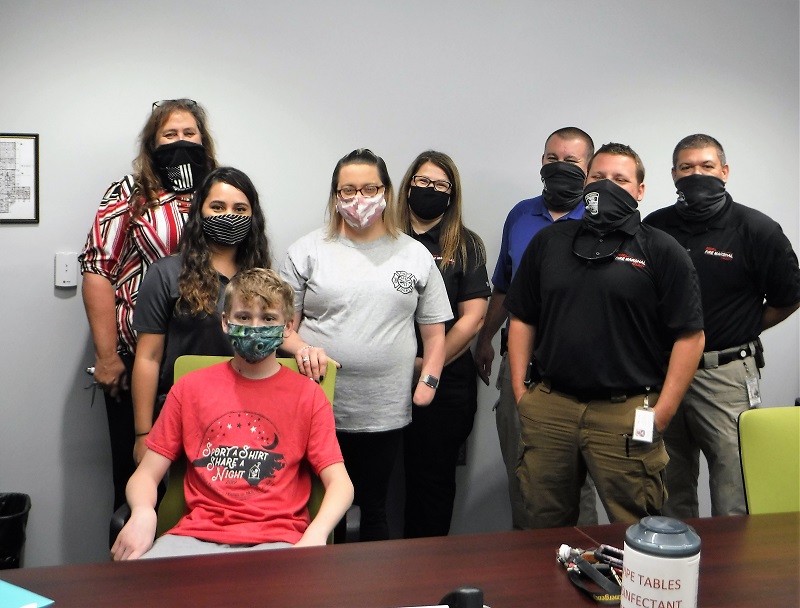 Reliving the events of September 21
On September 21, Rios answered a phone call from Donny Wills at 1:34 p.m. He told her that he was trying to make a smoothie and the porch was on fire.
Rios gave him instructions on what to do to break out of his home. Meanwhile, she began dispatching fire and EMS personnel to the home.
The last thing Rios told him was to look for a shirt or cloth to cover his face to keep out the smoke.
"After I told him that," she said, "I heard him coughing and then the call disconnected. I called him back twice and he didn't answer."
Soon afterward, fire crews, rescue and EMS responded to the scene, where they found the patient unresponsive in the home.
Fire crews pulled him out of the home and administered multiple rounds of CPR to the patient.
"We found a shirt around his neck. He followed her instructions – this helped save his life," Levan explained.
Donny was airlifted to Wake Forest Baptist Medical Center.
Fire Marshal David Souther explained that the cause of the fire was an electrical malfunction. Due to the fire starting on the porch, all of the exits were blocked.
Souther said the family lost everything, but is moving into another unit in the community.
Donny could have died.
"He was as close to dead as he could be. He was on every form of life support he could be on. He was in a coma, and two days after he was already waking up and fighting everything," his mom Angie Hubbard explained.
The first night, she said, the hospital was unsure that he was going to make it. So all of his family was able to see him. Afterward only two people were allowed to stay with him due to coronavirus concerns.
Hubbard said her son was on a breathing tube and ventilator for 18 days.
"Three minutes without fresh oxygen. He called at 1:34 and at 1:50 CPR was started. It was fifteen minutes he realized the smoke was there," Hubbard said.
"His doctor called him his miracle patient," said his grandmother Lori DeHart.
Donny still has some struggles. He will need speech andphysical therapy and other services as he recuperates at home.
His grandfather Joe DeHart said that the family stayed in Winston-Salem during his recovery.
Their lodging expenses were paid for by Ronald McDonald House, and the Fire Marshal's office was able to provide some assistance for transportation and groceries.
"He's dealing with everything the best he can," DeHart said.
Photos