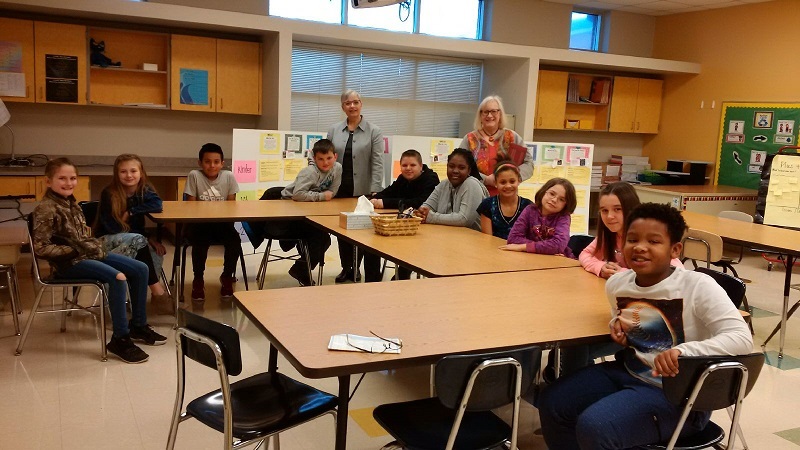 Cloverleaf Elementary School's Lighthouse leadership team were interviewed by outside International Baccalaureate staff as part of their school's accreditation process. Pictured (from left) are Bella, Lillie, Mark, Grayson, Keagan, Sanna, Mikayla, Kenzleigh, Clarissa and Macen. The International Baccalaureate visitors (from left) are Mary Perrett and Christine Collier.
BY KARISSA MILLER
Kenzleigh admits she was a little scared when she was asked to speak with a visiting International Baccalaureate team on behalf of her school.
A third-grade student at Cloverleaf Elementary, Kenzleigh is a member of the school's Lighthouse team — a group of students selected by their teachers to be a part of the school's leadership club.
A few weeks ago, Cloverleaf IB Primary Years Programme Coordinator Allison Whitaker met with the Lighthouse team and asked members for their help during the school's IB accreditation visit.
"I asked who would be willing to talk with the group. Not every member of the Lighthouse team thought it would be a cool thing," Whitaker recalled.
Kenzleigh did not raise her hand; however, after more kids joined in, she shared with Whitaker that she was undecided because she was shy.
On Tuesday afternoon, the Lighthouse team celebrated Kenzleigh for being a risk-taker. That's one of the IB learner traits that are defining characteristics each student strives for.
"She answered a lot of the questions out of all of us," one of the Lighthouse members said of Kenzleigh's contributions.
Whitaker used the school's IB accreditation visit as a teachable moment with the young leaders.
When Kenzleigh took a risk, Whitaker said, she learned that she can talk to people.
"It's an opportunity to overcome. That is the essence of why being a risk-taker is important," Whitaker explained.
"Sometimes when we take that risk, we find out we can do more than we knew we could do," she added.
Kenzleigh told Cloverleaf Principal Andy Mehall that she came from another school and didn't know about the IB program until Cloverleaf.
"If we make it to the IB, I don't care if we do; I'm just thankful that we actually had the chance to do it," Kenzleigh said.
According to Mehall, the IB program pushes students to be accountable for their own learning, and to learn through inquiry and problem-solving.
Ten character traits, which are heavily emphasized at Cloverleaf, are posted on poles in the car rider line and displayed in the hallways and classrooms at the school.
Words such as "reflective," "open-minded," "thinker," "risk-taker," and "principled" appear in large print to remind students of the qualities each one of them is.
Cloverleaf is also a Leader in Me school. That program is designed to build character and help transform school culture, and the program meshes seamlessly with the IB character traits, school officials said.
"Everyone sitting at this table is able to lead themselves," Mehall said. "To be a good leader, you first have to be able to lead yourself."
"What is your favorite learner profile that you feel best about yourself?" he asked the group.
Open-minded, risk-taker, inquirer, caring and communicator were the top answers from the Lighthouse team.
Mehall shared with the group that finding balance is an area where he could improve.
He then asked the group to share one learner trait that they needed to work. Open-minded was the top answer among the team.
"Each month, we focus on a different learner profile and teachers choose students that fit the learner profile. This helps them truly focus on each area such as communicators, risk-takers, caring, etc. truly important characteristics in life," Mehall explained.
IB PYP accreditation
The school is an IB PYP candidate school and has been working towards accreditation for two years.
An IB team came to Cloverleaf Elementary School to meet with students and parents independent of the school's principal and staff for the accreditation process on Monday and Tuesday of this week. The team will submit a report to IB and they will make a decision.
The school hopes to hear by the end of February.
"It helps them make a determination about whether or not we are truly meeting the standards or practices that are supposed to be in place," said Whitaker.
School officials say it's not just a rubber stamp of approval, but an in-depth audit of the school that goes beyond the school walls.
"This is taken to a far higher level. We have visions, missions and plans for our school. It keeps us accountable in depth, not in service. That's the piece that separates us from standard schools," Mehall explained.
"We aren't just a school that follows high standards, but a school that follows high standards that are deeply inspected," he added.
Once Cloverleaf is accredited the school will rebrand itself, complete with signage and banners, as an International Baccalaureate Primary Years Programme school, which focuses on teaching students to think critically and in a global mindset.