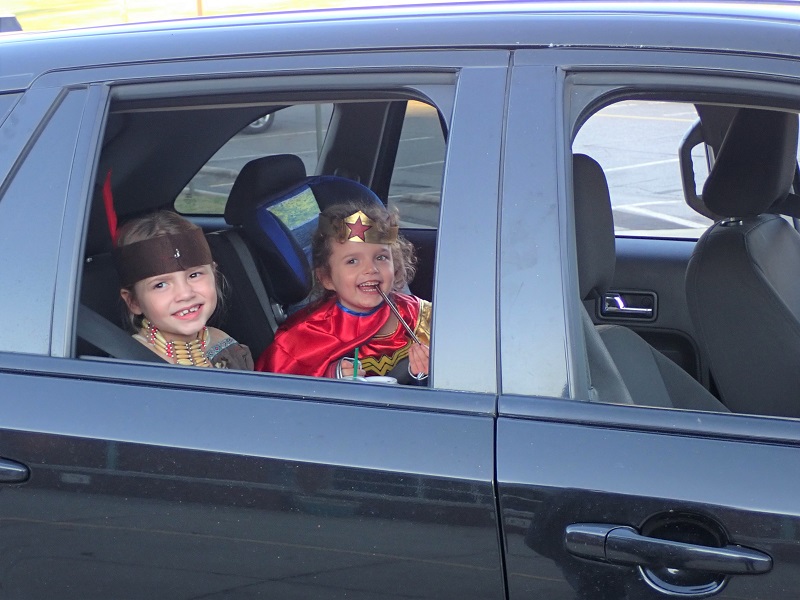 BY KARISSA MILLER
Third Creek Elementary School's first drive-thru family night was a big success.
On Friday evening, dozens of cars lined up and were directed around the main parking lot to the front of the school. Teachers and staff, donning face masks and protective gloves, handed out pre-packaged bags of candy and a book to trick-or-treaters in cars.
Students were dressed as their favorite book characters.
Jason Humphrey, the school's new principal, was dressed as a hot dog. He welcomed all students and their families.
The school had staff set up in different areas to allow for families to easily enter, get their candy, wave to their principal and teachers, receive a book and then exit.
To add to the fun, music sung by kids played overhead, including familiar songs like "I want candy" and "Thriller."
Media Specialist Becky Vodek said each child received a book that was on their reading grade level. The books, which included a selection of chapter, science, picture and biographies, were purchased by the school.
"We wanted to do something that was semi-normal for the kids and their families," Vodek explained.
Humphrey said the event, which was delayed a day by Tropical Storm Zeta, is normally held indoors, but the school had to modify plans because of the COVID-19 pandemic.
New leadership, increased enrollment
The staff has been very welcoming of the leadership changes at the school. In addition to Humphrey, the school also has a new instructional facilitator, Vonnie Auld.
Redistricting also increased enrollment by 100 students over last school year. Some students who would have attended East Iredell Elementary are now attending Third Creek.
TCE has around 530 students, including about 140 students who are learning remotely.
Humphrey said that flexibility is the staff's strength. They have handled every curve ball he's thrown at them and couldn't ask for a better staff. Some enhancement teachers are teaching virtual classrooms.
Jennifer Dalton, assistant principal, explained that TCS teachers are committed and have grown their knowledge of how to use technology in a virtual setting.
"Probably there will always be some kind of virtual option even after COVID. We are so much better prepared for that now. Through the trials, they have definitely been focused on academic growth," Dalton said.
New Challenges
While many parents were grateful when Iredell-Statesville Schools allowed elementary student to attend school five days a week starting in early October, it has created some new challenges.
"It's harder to keep everyone six feet a part now that we are five days a week," Humphrey said.
Additionally, the school has worked with parents, who decided after the deadline to switch from virtual to in-person instruction, in an effort to help students who had fallen behind.
Another challenge is the lack of technology and devices at the school. Students are used to practicing reading with various computer programs. This change was the result of schools operating under Plan B and also providing devices to virtual learners.
"Teachers have had to adapt. It's changed the method and structure of teaching," Humphrey said.
Photo Gallery