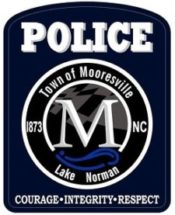 Special to Iredell Free News
The Mooresville Board of Commissioners accepted $2,800 in grants on behalf of the Mooresville Police Department, courtesy of the Walmart Foundation, during Tuesday's board meeting.
The grants will enable the MPD to buy supplies and equipment for the police department's Rape Aggression Defense program (R.A.D.).
A national program, R.A.D. has been offered by the MPD since 2009. The two-day self-defense course for women includes instruction on self-defense maneuvers and safety techniques that help women be more aware of their environment.
"Grants like the ones we received from Walmart help us to supplement our budget, so we can replace worn-out equipment and continue to offer programming like R.A.D. to the community at no cost," said Detective Dan Miglin.
The grants will allow the department to purchase a tent with the accompanying accessories needed to hold classes outdoors and will also go towards new padded suits for students to wear while practicing self-defense tactics.
In the announcement awarding the grants to the Mooresville Police Department, a Walmart spokesperson stated, "We are thrilled to support your work in our communities and share your desire to provide local impact."