BY DEBBIE PAGE
debbiepage.iredellfreenews@gmail.com
Ron Wyatt is returning to the Town of Troutman, after serving as Iredell County Register of Deeds since 2016, to work as town manager.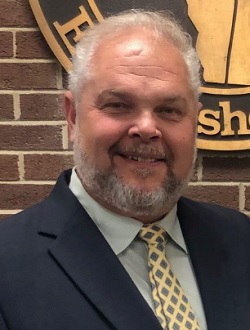 The former Troutman mayor and Marine veteran is looking forward to guiding town staff as they manage the town's explosive growth and the economic challenges suddenly emerging as a result of the COVID-19 pandemic.
Wyatt will assume his duties on a part-time basis on June, with Interim Manager Jim Freeman making himself available as needed as Wyatt transitions into the position. As of July 1, Wyatt will work full-time.
Wyatt's compensation package includes a salary of $91,500, along with health, disability, and life insurance benefits and a $7,200 annual vehicle stipend.
Though Wyatt enjoyed his county position, the opportunity to return to lead Troutman's staff was too tempting to pass up.
"This is where I live, exercise, and play. Having the background knowledge, having grown up here, I know what some of the growing pains are that face us," he said.
After being approached by a former council member to apply for the job, Wyatt decided to throw his hat in the ring. He embraced the chance to influence the community, where he lives with wife Julie and twins Parker and Ethan.
"I agreed that I had a lot to still offer Troutman instead of us taking a chance on an outsider who knows nothing about our community."
Though he left his mayoral post to become a county official, Wyatt has remained very visible in Troutman.
"I think that it is important as an employee of the Town of Troutman that not just during your work hours, but at activities such as church socials, barbecues, scouts, youth sports, that you be out in the community supporting those activities on a daily basis."
Since many residents are busy with jobs and family activities, they do not have the time to drop by a town meeting or by the office. "It's important that I be seen in the Troutman community so they will feel welcome to talk to us about their ideas or concerns," Wyatt said.
Though he has a government service background and ten years of law enforcement experience with the Iredell County Sheriff's Office, Wyatt plans to take advantage of training opportunities with the Centralina Council of Government to sharpen his knowledge of ever-changing municipal operations.
FIRST PRIORITIES
Wyatt's first task will be to help the council and staff complete the 2020-2021 budget, a process that has gotten off to a late start because of the pandemic and other uncertainties.
"I want to get the budget tightened up and make sure I have a full understanding of what each department needs and while understanding that we may have a revenue shortfall to fund our budget."
Wyatt plans no changes at first, taking time to get to know the departments and their operations.
"Without being on the inside and actually seeing what the employees and department heads are having to deal with and what kind of workload they are under, what kind of equipment they are working with, it would truly be unfair to do that."
He believes the town's small staff is efficient, especially in light of increasing demands and the limited resources and space in which they operate. "I want to focus on communicating to the public what is actually happening behind the scenes so that they have a better understanding of what is going on and a better appreciation of the services being offered on regular basis," Wyatt explained.
GROWTH
Wyatt believes Troutman's many assets will make it appealing to others, despite a possible economic downturn. "Troutman is still a small town, and we've still got that small-town charm with having the Richardson Greenway downtown as well as the expanded greenways to South Iredell and up to Barium Springs."
"Even though we are inevitably growing with the projects we already have on the books, I would like to see us hold and maintain our charm as long as we can."
Wyatt is excited about two more amenities being added to ESC Park. Construction is now underway on two ball fields as well the opening of the Iredell County Lodge #10 Fraternal Order of Police Splash Pad, for which Wyatt helped in securing sponsorship, as soon as the governor allows the opening of such amenities.
CHALLENGES
Wyatt is eager to tackle and solve the challenges that lay on Troutman's horizon. "The biggest challenge is like that joke: the person that moved in last is the one that says, 'We don't need any more people coming.'"
With growth comes positive economic news but also issues of traffic and density. Wyatt noted that officials cannot build a four-lane highway until the traffic is there to support its construction.
"We have a lot of streets and intersections that need improvement because neighborhoods are being built at them. Unfortunately, you've got to have the rooftops and vehicles that go with them before you can make the necessary changes to your streets."
Sewer and water infrastructure is also a concern. Because of 1990s sewer and water expansion, "Troutman has one of the top ten water and sewer rates in North Carolina," said Wyatt.
"As we continue to grow and expand, we need to make sure that we can handle continued growth without increasing those water and sewer rates. We should look at developers as part of that cost-sharing program as we expand."
ECONOMY
As the town council and staff work to construct and refine next fiscal year's budget, the COVID-19 virus has changed a booming economy and a low unemployment rate to an uncertain future. "I'm greatly concerned because the so-called experts on both the state and national level cannot seem to give us any kind of real pulse."
"I have heard anywhere from a 10 percent to a 40 percent drop in sales tax. Even though Troutman is a small town, when you start looking at our nearly $5 million budget and the sales tax revenue could drop 40 percent, that's a drastic impact."
"We've got to be very mindful of the projects we approve going forward — necessity versus what are the things that are less necessary and can be put off."
Wyatt said the true impact of reduced sales tax revenues, as well as possible property tax collection declines, will not be felt until taxes are returned to Troutman by the state and county early next year.
Small businesses, the backbone of Troutman's economy, are hurting in the coronavirus shutdown.
"Some experts state that we will lose a minimum of 20 percent of these self-owned, small businesses to as much as 45 percent, depending on the category of business. As small as Troutman is, I think it changes our face drastically if we lose a third or more of our locally owned businesses and what they offer to Troutman," Wyatt said.
Wyatt hopes that state and federal programs and loans to help small business owners will help them endure through the crisis. One business owner recently told Wyatt of a 50 percent drop at his laundry business since the crisis began.
"I'm hoping that these programs are not just a Band-Aid. I'm hoping that they have long-term solutions that are real viable options so that we can maintain the businesses we already have. Because of the geographic area that we live in, I think our area is not going to be as impacted as severely as some of the eastern counties in North Carolina and more rural western counties."
However, Wyatt said, "Rooftops drive business. Free commerce drives those types of businesses to us. As we grow as a town, when we want different things, they will materialize for us."
LEADERSHIP STYLE
Wyatt believes in a "people first" management style. "Customer-oriented is what I believe in. Working in government for most of my adult life, you get a public service attitude and what that means and how that's translated."
"All of us have had those opportunities when we've walked into a government building and wanted certain functions performed for us, and we felt like the persons working there wanted to be somewhere else instead of where they were."
"I talk to folks the same I would want to be talked to if I was in their shoes. I lead by example, and I will let the public know that we are there as public service employees."
Wyatt believes in rewarding employees who are doing their jobs well and honoring their accomplishments in the way that they deserve. He also believes it is essential to give them the tools to do their jobs correctly.
"The manager, in my opinion, is the one who should be responsible for the things that are not so good. I don't think the town manager should be taking accolades when there is a successful event that is hosted by the town when multiple departments are involved. All of them should be recognized for contributing to that event being successful."
"The elected officials should receive due credit for the successes of the town, for funding and approving the policies that the manager then enforces. My management style is basically — let's be accountable for our actions and be public servants."
Though COVID-19 restrictions are impacting the way the town and its government is operating under Cooper's restrictions, Wyatt will work to make sure citizens' needs for service are a top priority, despite the reduced staffing and operating hours.