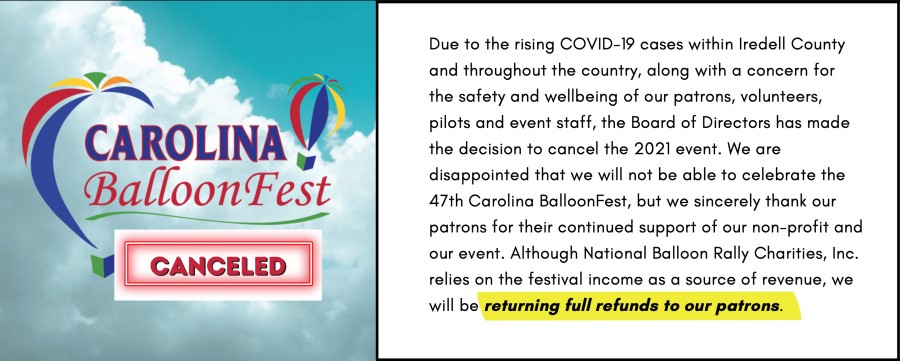 Special to Iredell Free News
The 47th Carolina BalloonFest scheduled for October 15-17 has been canceled due to concerns about the spread of COVID-19, organizers announced early Friday.
National Balloon Rally Charities Chairman Bob Thompson said the decision to cancel the event was made by the Board of Directors after a lengthy discussion about community health. Local health officials have reported a surge of new cases of COVID-19 and more than 100 hospitalizations during the past month.
"We have worked in close contact with the City of Statesville, local health officials and other community stakeholders to try and determine a safe way to host 40,000 people over a three-day weekend," Thompson said. "But there was no safe solution that didn't involve risk, so the Carolina BalloonFest Board of Directors ultimately made the decision, in the best interest of our community, to cancel this year's festival."
This is the second time that the nonprofit organization has had to cancel BalloonFest during the pandemic.
Organizers said the decision was not made lightly given that NBRC Inc. depends on the festival as its only source of income. The nonprofit donates to over 20 other nonprofits and community agencies in Iredell County on an annual basis. In recent years, the nonprofit has donated over $787,000 to the community.
"We are disappointed that we will not be able to celebrate the 47th Carolina BalloonFest, but we sincerely thank our patrons for their continued support of our nonprofit and our event," said Bud Welch, executive director of Carolina BalloonFest.
All patrons who have purchased advance tickets will receive a full refund, Welch said.
Anyone who purchased a ticket online through Carolina BalloonFest's website will be refunded via the festival's ticket platform Eventbrite. Those who purchased an RV camping spot will receive a refund check in the mail.
"We are deeply saddened that we do not get to see the smiles on our patrons' faces as the hot air balloons take flight this year," continued Welch. "But as it is our nonprofit's mission to philanthropize the Iredell County community, we know that we are doing the right thing in making this decision as hard as it may be. We hope to see you in 2022 during the third weekend in October."
"To cancel this event two years in a row because of the health concerns that it creates during this pandemic is heart-breaking. Therefore, we turn to our community and humbly ask you for your support," Welch said. "Any donation – big or small – would make a tremendous difference for our nonprofit so that we can continue our annual mission to help this community. We rise so others can soar, but right now, we need your aid and support."
With the cancellation of their second event due to the pandemic, the non-profit is asking for any donations to be sent to National Balloon Rally Charities Inc. via a PayPal link (https://bit.ly/DonationCBF) or mailed to P.O. BOX 267 Statesville, NC 28677. For further inquiries, please contact Bud Welch at info@carolinaballoonfest.com.
ABOUT NATIONAL BALLOON CHARITIES
National Balloon Rally Charities Inc. is a 501(c)(3) charitable organization and all contributions are tax deductible. A portion of proceeds raised through Carolina BalloonFest is distributed to local nonprofit organizations. Learn more about Carolina BalloonFest at www.CarolinaBalloonFest.com.