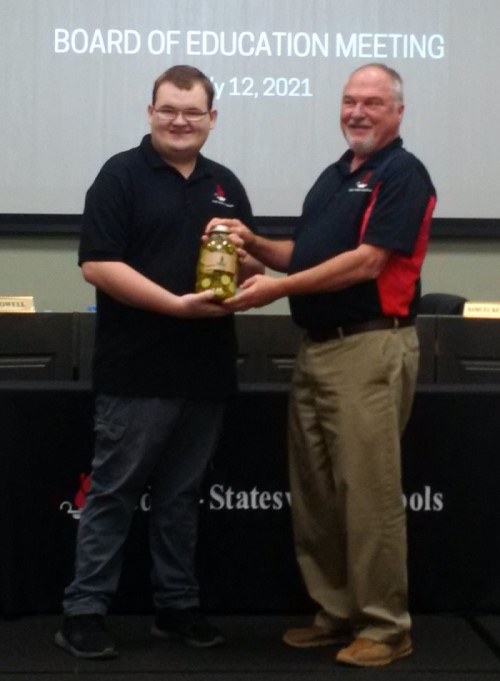 BY KARISSA MILLER
Carson Lester has a passion for pickles.
Two years ago, after being inspired by a school project, Lester started his own pickle business, Tasty Pickles by Carson, which has flourished.
On Monday night, Lester presented Iredell-Statesville Schools Board of Education Chairman Martin Page with his 10,000th jar of pickles.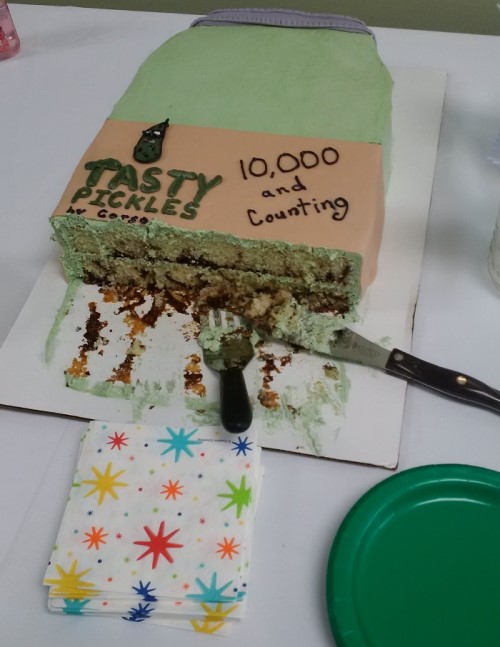 Page said that Lester, a 2020 graduate of South Iredell High School who has autism and a learning disability, has come a long way> He's proud of his accomplishments.
Superintendent Jeff James said Lester can be a model for other students.
"I hope we instilled upon him a skill set that will let him produce pickles for many years," James said.
Lester once worried that he would never be able to get a job, so he began to think about being his own boss.
His pickle adventure has given Lester a sense of pride and accomplishment and has helped him grow in confidence and improve both academically and socially, according to his mom.
Page said the 10,000th jar of pickles will be on display at the central office along with some information about Lester.
While those gathered at the school board meeting were disappointed that jar wouldn't be opened, Lester brought plenty of pickles for everyone to sample along with a cake that was shaped like a pickle.
Flavors include kosher dill, sweet dill, spicy deal, bread and butter and sour dill, which are sold in pint or quart jars.
He recently connected with Food Lion and is working to get his pickles in five local stores.
You can find Tasty Pickles by Carson at the Mooresville Food Lion on East Plaza Drive or at tastypicklesbycarson.com.