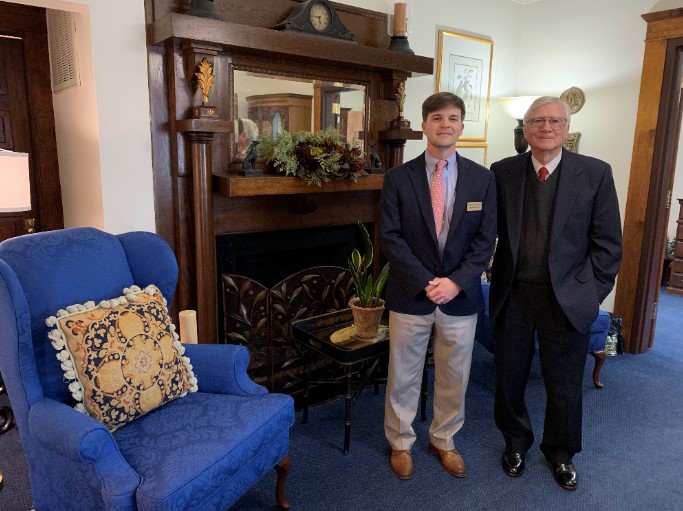 BY BRANDY TEMPLETON
Joe Troutman was just a boy when he first became interested in funerals. In 1945, when he was eight years old, his family lived near Race Street United Methodist Church in Statesville.
"I lived two houses down, and I was observant of all the funerals that might be happening at the church," he said. "I would sit on the corner and watch."
Troutman says he can't say exactly what drew him to the funerals, but he was interested in everything involved in the process.
His observations sparked an idea, and soon young Joe began helping his neighbors by burying their deceased pets in their yards.
At age 14, he worked for Karl Kirkman at Johnson's Greenhouse, which was located underneath Johnson's Funeral Home. Within two years he was helping out at the funeral home.
"I washed cars, put the tents up, and would pick up bodies when they passed away," he said. "I also drove the ambulance."
After graduating from Statesville Senior High in 1956, Joe enrolled at Mitchell Community College. He worked and lived at the funeral home while completing the college's General Studies program.
During that time, his interest in the funeral business intensified. Because there were few schools offering funeral service and embalming degrees, he enrolled in the Cincinnati College of Embalming and Science in April 1960.
"I graduated April 11, 1961," Troutman said. "Then I came back home to Statesville."
Joe worked for both Bunch and Johnson funeral homes until 1972, when he decided to take a break from the business. He worked in outdoor advertising until 1983 when he took advantage of the opportunity to purchase Nicholson Funeral Home, where he worked for the next 35 years.
When his former wife decided to sell the business in 2018, Troutman and his son William suddenly found themselves out of work.
But not for long.
William, who has worked alongside his father for nearly two decades, decided to purchase Troutman Funeral Home from Jim and Susan Sappenfield. Joe immediately joined the venture.
It has been a successful transition as they have steadily gained market share in Troutman, Statesville and the surrounding communities.
"The most rewarding part of my success comes from the trust that families have in me," Joe shared. "Families that I've known for 60 years still have confidence to let me help during their difficult time. I've served three and four generations — since the 1950s and '60s."
William said that his father has received awards for his outstanding service over the years.
"People remember what dad has done for them," he said. "He's increased business significantly based on trust over the past 60 years."
Joe has always worked hard to provide the best service to grieving families. Because he has long-standing personal relationships with so many of his customers, he genuinely cares about them and does not hesitate to go the extra mile to provide whatever they need while they are coping with the loss of a loved one.
Throughout his career, Joe has remained focused on two guiding principles. The first is The Jaycee Creed, which says in part "that service to humanity is the best work in life." The second principle is the Rotary Club's four-way test, which asks "Is it the truth? Is it fair to all concerned? Will it build goodwill and better friendships?"
As for the future, Joe has no plans to retire. He wants to keep helping people as long as he is physically able.
"I'm very blessed with good health and a good mind," he said. "I plan to continue as long as I can."
Meanwhile, William plans to carry on the legacy that his father has built and holds out hope that eventually his two sons will have interest in joining the family business.
"I'm so lucky to be able to learn from the best. I've been fortunate to work alongside my dad for the past 17 years," William said. "This transition to Troutman is one I cherish because I took a big risk and along with his help, it's been extremely rewarding to continue building trust in families alongside my dad."