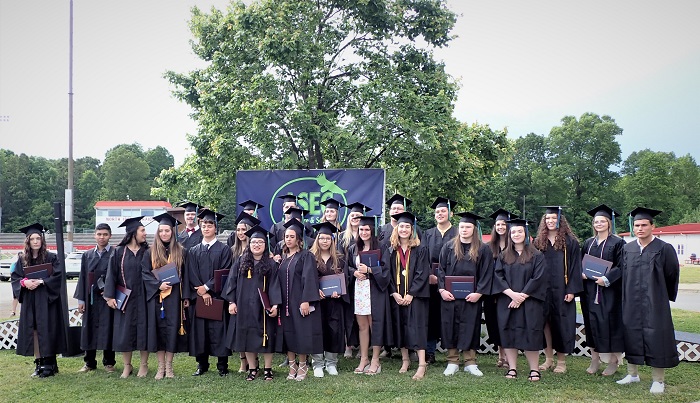 BY KARISSA MILLER
Nervousness competed with laughter as Agriculture and Science Early College high school seniors made the transition to graduates on Friday afternoon.
Principal Billy Wells drew a steady stream of laughter from the 29 graduating seniors and family members, friends and well-wishers as he read the personal goal each student set as a freshman.
In the early days of your freshman year, Wells said, ASEC staff asked students to list three things they could do well and three things they want to accomplish in their lifetime. There were no other guidelines.
"Cullen Allen, you said that you want to retire at age 30," Wells said. "Good luck with that goal."
Next, Wells introduced the top three honor grads: Jackson Swicegood, Eian Hoots and Marcus Brooks.
Swicegood said that despite COVID-19, they all made it out successfully.
"No in-person learning was available the spring semester of 2020 and some of the fall semester. So we were camped out at our kitchen tables learning remotely," he said. "This took a lot of discipline to remain focused on the task at hand."
Looking back, he said, "We did it!"
Swicegood said applying the 12 points of Scout Law has helped him achieve his goals at ASEC and he believes it can be applied in their futures.
"A Scout is trustworthy, loyal, helpful, friendly, courteous, kind, obedient, cheerful, thrifty, brave, clean and reverent," he explained.
Hoots, who plans to major in astro physics at UNC-Chapel Hill, said ASEC challenged him academically.
"The school is a really nice school. There are no social challenges here, but there were academic challenges when I got to the higher-level classes at Mitchell. My mom would wake up at 3 a.m. and make me go to bed," Hoots said.
Brooks thanked his guidance counselor, Tennille Sherill, for her support.
"I would not be standing here today giving this speech if not for her encouragement the last four years," he said.
"For me, being at ASEC has allowed me to create new friendships and lifelong relationships. It's also allowed me to pursue an education first and gain opportunities and experiences I wouldn't get anywhere else," Brooks added.
According to Sherrill, some students at ASEC are the first in their families to attend college.
Students take college courses aligned with their high school curriculum and graduate with a high school diploma and an Associate's degree completely free of charge.
By design, Sherrill explained, the early college high school is composed largely of first-generation college students and other under-represented groups.
Special guests during the diploma presentation included: Sherill, who also sang the National Anthem; Camille Reese, vice president of instruction at Mitchell Community College; and Kelly Cooper, Iredell-Statesville Schools' executive director of secondary education.
Wells said the class of 2021 earned more than $1 million in scholarships.
"I'm looking forward to the good things you have to come. I'm anxious to hear from you and about you. So, all the best," he said.
Photo Gallery